Crowdfunding in Spain: market history and current state
Spain's crowdfunding market had to start without any clear regulation. Only in 2015, 5 years after the market launch, a clear regulation was adopted, according to which all platforms should have been registered with the CNMV, Comisión Nacional del Mercado de Valores, and the conditions were very restrictive.
All Spanish platforms registered with the CNMV had to follow rigid limits in terms of both the maximum sum permitted to raise, 1 mln EUR, and the maximum sum of investment for a project per investor, 3,000 EUR. In the case of lending-based crowdfunding, the Bank of Spain was assisting with controlling and supervising crowdfunding platforms.
Now that the ESCP entered into force on 10 November 2021 and became applicable to all the crowdfunding platforms willing to operate in the EU, Spanish platforms are expected to shift to new regulations by 10 November 2023.
Per the new legislation, the maximum limit of funds that a project may raise per year will be increased to 5 mln EUR, secondary markets can be implemented by allowing investors to obtain liquidity when needed, and the cross-border provision of services has become possible.
The history of crowdfunding market in Spain
The first alternative investing platforms in Spain were launched in 2010. But it was only in 2015 that the first regulation on crowdfunding was adopted.
Together with the Bank of Spain, CNMV introduced a specific legal framework for financial crowdfunding platforms that regulated crowdfunding providers' and investors' relationship. In a nutshell, CNMV implemented the following:
introduced the CNMV FinTech Portal to attract people interested in crowdfunding;
developed a legal framework for different crowdfunding types, e.i debt, equity;
separated accredited and non-accredited investors, setting limits and requirements for both;
designed administrative and financial requirements for new players;
created consultation services to support the community.
Even though the regulatory uncertainty was rather long, it didn't stop the Spanish crowdfunding market from moving forward. So, in 2013, the number of funds raised was slightly less than 20 mln EUR, and just 5 years later, in 2018, this sum grew to 160 mln EUR, with lending, real estate crowdfunding, and investment crowdfunding platforms taking leadership.
With the introduction of the ESCP, the crowd-investing sector in Spain is expected to get a new flow of investments and fundraisers. The industry is expected to continue its rapid growth with more platforms shifting to the new regulation. Still, most Spanish platforms are registered with CNMV so far, and the limitations on fundraising and investing maximums are still valid.
Top crowdfunding platforms in Spain
Verkami
Barcelona-based Verkami, positions itself as one of the major platforms for crowdinvesting in Europe. It was indeed one of the first crowdfunding plaforms launched in Spain.
With over 12 years of experience, the platform focuses on funding projects with added value – books, films, art, and similar to help authors and creators to achieve their goals.
Verkami claims they have the world's highest success rate, with over 70% of projects reaching their funding goals. For now, the platform managed to raise more than 50 mln EUR for over 10,000 of projects.

Grow.ly
Grow.ly is a P2P lending platform that facilitates raising funds for small- and medium-sized companies based in Spain and enables investors to capitalize by issuing loans.
The company is authorized by and registered with CNMV. With years of experience, the total sum of funds raised via Grow.ly exceeds 32 mln EUR.
Flobers
Flobers is a crowdfunding platform authorized and regulated by CNMV that allows investing in green energy projects and aims to democratise renewable energy investment. The minimum investment starts with 1,000 EUR with an average returns of 6-8%.
The platform works with both accredited and non-accredited investors. However, only accredited investors can invest more than 3,000 EUR in a single project.
Foreign investors are accepted, too, but to be able to participate in offerings, they have to receive an NIE (un Número de Identificación de Extranjero) and be a resident of an EU country.
Dozen
Dozen is a venture capital and private equity firm based in Barcelona. Like any other Spain-based platform, Dozen is authorized and regulated by CNMV. The platform is free to register, however, it charges a fee of 6% on each investment + VAT. Once the investment starts delivering profit, Dozen charges its share of 15% + VAT.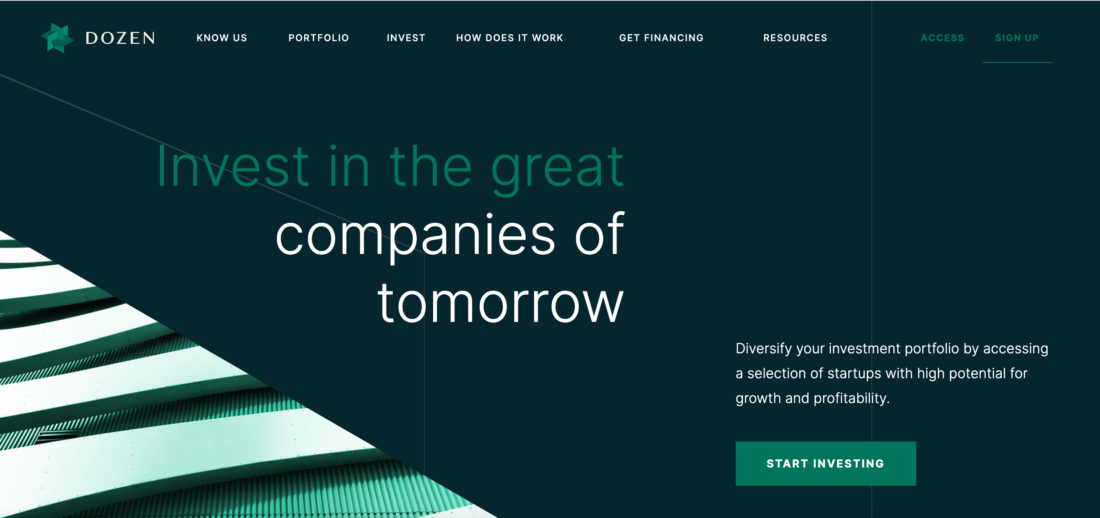 The platform is open for investors from all EU countries but they have to present their NIE to access the Dozen offerings. Only accredited investors are permitted to invest more than 3,000 EUR in a single project.
The company has invested over 38 mln EUR in various startups in the gaming, food tech, space tech, health, and other promising sectors.
Conclusion
With the ESCP regulations entering into force, Spanish crowdfunding market expects more opportunities and a new development leap. This transition is expected to eliminate the existing limitations of the Spanish platforms and push the market to a new growth wave. With the new regulations adoption well underway, it's time to explore closer Spanish crowdfunding platforms diversity, and see what it has to offer.