Crowdfunding platforms in Latvia: best options to invest
One of the Baltic Tigers, Latvia, is experiencing a crazy public interest in crowdfunding activities now.
Just check out CrowdfundInsider's newsfeed about Latvian companies getting authorisation for alternative financing services.
According to Statista, the total value of alternative financing in Latvia during 2020 was $237 million, the number of platforms — 19.
A friendly regulation environment is one of the catalysts forcing more and more players to enter the local market.
Last year's national crowdfunding guidelines and the 1st National Crowdfunding Association greatly contribute to this trend.
We at CrowdSpace have done research on the local crowdfunding market and believe it's worth sharing. Check it out.
A sneak peek into the Latvian crowdfunding market
The Baltic States of Estonia, Latvia and Lithuania have created appealing business and regulatory infrastructures and advanced IT systems. It allows these countries to be in the top global chart of crowdfunding market leaders by the market volume.
Experts from Cambridge experts state that alternative finance volumes per capita are the key indicator of alternative finance market development.
Latvia is ranked second in the global chart, overcoming the UK, USA and even China. In 2020, alternative finance volume per capita was 186.23, a year before — 188.73.
A few interesting facts about crowd investing and p2p lending in Latvia:
The market is highly concentrated, with 62% of debt models;
In 2020, Latvia reported a decrease in crowdfunding volumes (from $360 millions to $238 millions);
P2P Consumer Lending accounts for 90.5% of the entire market, Latvian platforms occupy the largest share of P2P consumer and business lending in the Eastern Europe and the Caucasus regions;
Among 19 crowdfunding platforms in Latvia, there are 6 local and 13 foreign operating in the country.
75% of respondents of the Cambridge survey believe that Latvian crowdfunding regulation is adequate and appropriate for their platform activities;
The interest of Latvian investors earned through P2P lending must be included in the yearly income and taxed according to the progressive system.
Although Latvia doesn't have an enormous heritage or a strong financial system, its crowdfunding market has great potential.
Crowdfunding regulations in Latvia
In May 2020, The Alternative Financial Services Association of Latvia has developed Guidelines for the crowdfunding industry in Latvia.
The strategic goal of the document is to create a transparent and robust crowdfunding environment in the country, protect market participants and guide them around standard procedures and flows.
The topics covered by the guidelines:
investment funds and investor interests protection;
platform information disclosure and advertising standards;
crowdfunding company platform management;
conflict of interests management, industry ethics and reputation;
security policy, AML/KYC principles, etc.

Latvian regulation applies to:
P2P lending:
donation and utility models;
investment platforms that require an IBF or credit institution licence.
The registration of a new crowdfunding entity is done by the Financial and Capital Market Commission (FCMC) and may take up to 3 months.
The first step lasts for 25 working days and precedes the start of licensing application evaluation (checklist).
If the application is not completed, the FCMC sets the deadline for missing info. If it's completed, the registration process is initiated. If a company wants to add additional services, the procedure restarts.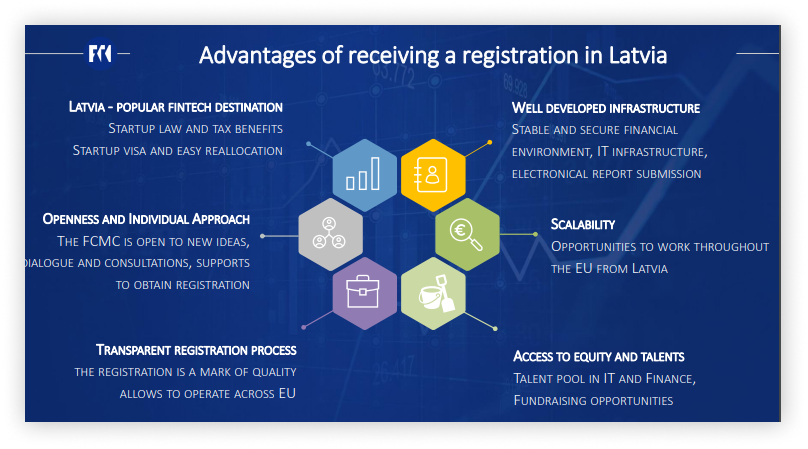 Top crowdfunding platforms in Latvia by CrowdSpace
You can google Latvian crowdfunding platforms or can simply go to CrowdSpace and get an automated rundown of crowdfunding service providers from this region.
CrowdSpace is a global directory of crowdfunding platforms of different types, from different industries, and countries.
Top Latvian crowdfunding companies according to the CrowdSpace: Twino, Bulkestate, Grupeer, Mintos, and Via Invest.
Twino
Twino is a group of global fintech companies providing investment trading and alternative lending services for everyday backers. Twino has opened the market to the public and ensured it with the same level of security as incumbents. Twino is focused on consumer and business loans.
ViaInvest
Individuals and legal entities can invest in loans originated by non-banking lenders (VIA SMS Group and its daughter companies) through peer-to-peer marketplace ViaInvest.
The company operates under the investment brokerage firm licence and is supervised by the Financial and Capital Market Commission.
How it works:
ViaInvest borrowers request funding from VIA SMS Group and its daughter companies. All loans are combined into one pool which is further published on the platform. Backers decide which pool they're going to invest in.
The company deals with individuals, legal and private entities.

Mintos
Mintos is a global investment platform, providing beginners and experienced investors with an accessible way to build wealth through loan-based investments.
Backers can rely on Mintos general and custom strategies depending on the goal they aim to hit – diversification, portfolio quality, high-interest rates.
Mintos offers a secondary market for selling investments at a discount or premium.
Types of loans supported by Mintos: business, forward flow, car, personal, agricultural, invoice financing, short term loans, etc.
As of 2021, Mintos had 45K+ registered users, and 201 average investments per backer.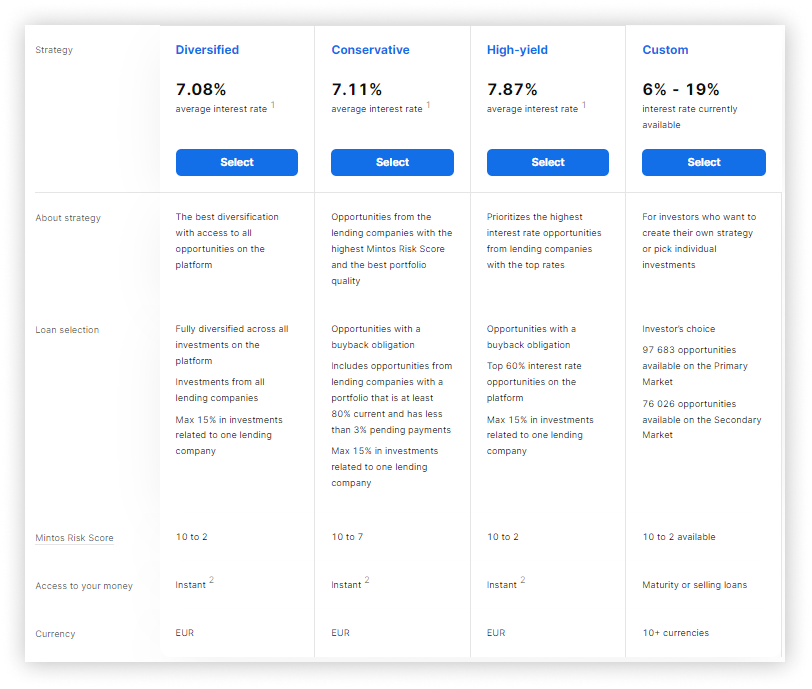 EstateGuru
EstateGuru was founded in 2013 as an alternative to traditional 'one-size-fits all' solutions offered by incumbents for property developers.
Now the company is the leading European marketplace for short-term, property-backed loans.
EstateGuru in numbers: 2,989 loans that equal €480 million have been issued. The provider geography: Estonia, Latvia, Lithuania, Spain, Germany, Sweden and Finland.
The minimum investment size — €50. Loans options: bridge, development, business. Collateral types: residential, commercial, and & buildings under construction.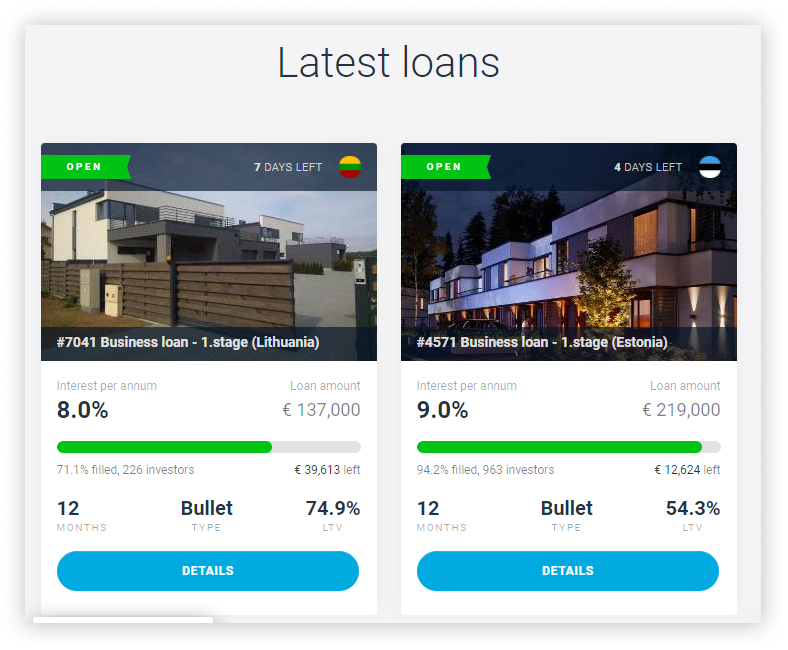 Bulkestate
Bulkestate is another real estate crowdfunding platform from Latvia. It's a portal for group-buying at a price lower than the market value.
The purchase price already includes the cost of Bulkestate services without any separate fees.
The provider carefully vets all offerings: applications go through a rigorous, consistent and multi-tiered evaluation process by the investment committee.
Investors' funds are kept in escrow accounts, which is to make sure that in case of a project failure, investor funds are safe and sound.
The combo of group buying and lending is a unique approach for the Latvian market, which sets Bulkestate apart from the competition.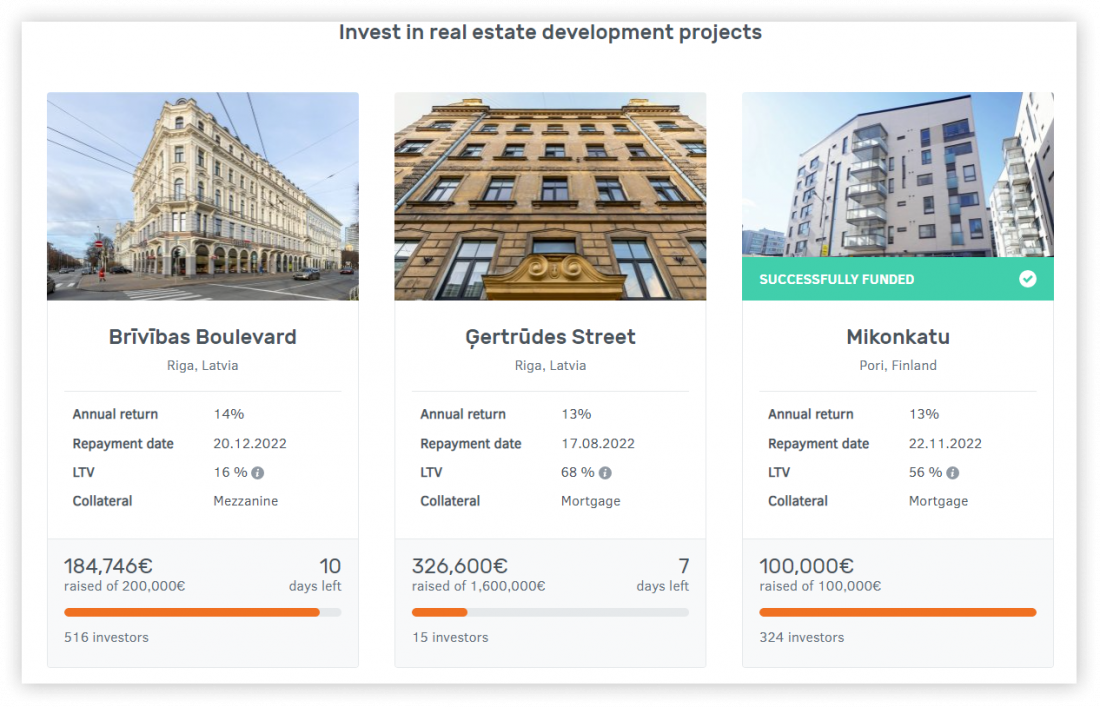 Final thoughts
World crowdfunding leaders like the US, the UK, Germany, and China are followed by a squad of early-staged yet very ambitious crowdfunding hubs.
Baltic Tigers, in particular Latvia, have a friendly regulation environment and advanced IT ecosystems, which spurred international companies to raise funds for locals.
Crowdlending is a primary direction of the Latvian FinTech industry. Over 60% of companies offer consumer and business loans to professional and retail backers.
Top crowdfunding providers in Latvia are Twino, Mintos, ViaInvest, EstateGuru, and Bulkestate.
You're a borrower, backer or maybe platform owner willing to know more about Latvian players? Use CrowdSpace to discover the market.