CrowdSpace – a crowdfunding ecosystem
Join our global alternative finance community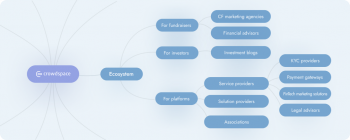 Fundraisers
Small businesses or established companies looking for extra funding can find alternative financing options through CrowdSpace.
All platforms are grouped by investment type, industry and country, so startups and businesses can find a particular audience from a particular country:
Running a crowdfunding campaign on the right platform and pitching to the right audience may define your funding success, so CrowdSpace is happy to provide you with all essential details about platforms and make an informed decision.
Investors
Online investment opportunities are vast and different shapes: from equity to P2P lending to hybrid investing.
Besides, they are also different in nature. Some crowdfunding platforms offer investment opportunities in any type of business, while others support specific domains:
sustainability
green energy
real estate
biotech
technology
urban development
sports
education
art etc.
We constantly search information about crowdfunding platforms and gather them in a directory that's easy to search and filter.
This way, we'd like to help investors from all walks of life better understand their options, educate about crowdfunding in general and promote alternative financing among a wider circle of potential investors.
Fintech professionals
Any crowdfunding or online investment business includes the effort of different professionals and solution providers:
financial advisors
lawyers
tech engineers
KYC providers
marketing agencies, etc.
Finding them all takes a lot of time and research, and that's where we want to step in and help.
We aim to create a big network where FinTech professionals would be able to connect and build professional relationships and encouraging the development of the crowdfunding industry.
Contact us if you represent services or solutions for crowdfunding — we are actively building up our database and will make it live soon!