About CrowdSpace
There's plenty of contradictory information on the internet about crowdfunding both in terms of investing, fundraising or building a crowdfunding platform. We decided to create a crowdfunding platform aggregator and teach the audience about crowdinvesting at the same time.
Crowdfunding attracts a variety of audiences — investors, startups, business owners, tech providers — and that's exactly whom we want to help!
Investors
If you are so-called retail or everyday investor who is just starting to explore your investment opportunities, you might have found some ads and promotions of various crowdfunding platforms and read reviews.
At CrowdSpace, we want to gather crowdfunding and crowdlending platforms with a proven reputation and provide an easy tool for you to filter those that fit you most.
Fundraisers
Small business or an established company looking for extra funding?
We all know about the most popular crowdfunding platforms for startups, but what if you are only eligible for funding from a specific country? Or maybe you are fundraising for a social cause?
At CrowdSpace, you will find platforms to choose from as well as professional advice on running a crowdfunding campaign. In the future, we will also add marketing agencies specialising in fundraising campaigns so you can connect and get first-hand help.
Business owners
Entering the crowdfunding space and starting a crowdfunding business is not always straightforward. There are many integrations to do, business logic to build, and legal stuff to figure out.
We aim to gather all of these people and service providers here in one place so that starting a crowdfunding platform could be easier:
payment gateways
crowdfunding associations
marketing agencies specialised in crowdfunding campaigns
financial advisors
legal advisors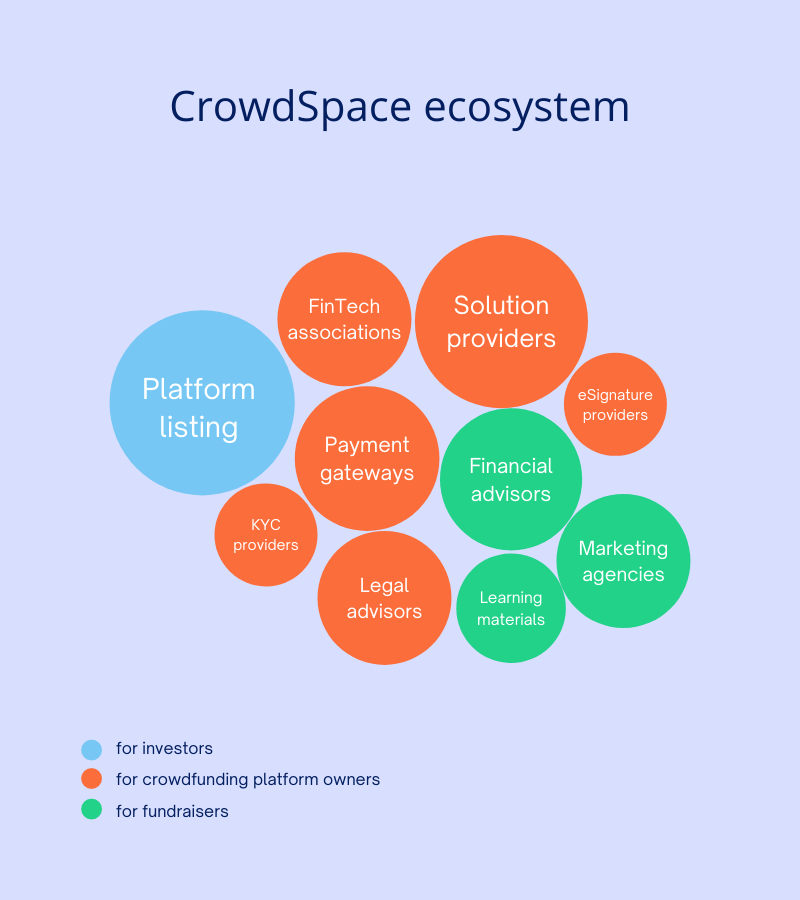 CrowdSpace is in the beta stage and here's what it offers at the moment:
Investors can access a list of crowdfunding platforms in the UK and Europe and filter them by specific parameters. Besides, they can read educational information in the Glossary and Blog.
Fundraisers can find crowdfunding platforms in the UK and Europe to launch their crowdfunding campaigns as well as read articles on crowdfunding and fundraising.
Plans for the coming months
Launch crowdfunding platform profiles with detailed information.
Allow crowdfunding platforms to register or claim their profiles to drive more traffic to their business.
Expand the "For platforms" section by adding KYC providers, payment gateways, crowdfunding and FinTech associations, legal advisors and FinTech marketing agencies.
Add marketing agencies and consulting companies that help startups launch fundraising campaigns.
Write content for fundraisers, investors, crowdfunding platforms and those who plan to start a crowdfunding business or expand into the digital lending space.