Crowdfunding in the Netherlands: the market guide 
The Dutch crowdfunding market is fairly considered one of the most promising markets in the EU. In fact, it's been one of the first crowdfunding adopters from the very beginning.
In 2021, crowdfunding platforms in the Netherlands raised 730 million EUR, which is 75% more compared to 2020 with 417 million EUR. Business, startup, real estate loans, and social projects made up a large part of the amount collected via crowdfunding.
Moreover, the first platform to receive the European Crowdfunding Service Provider licence was a Dutch social impact platform, Lendahand.
As you can judge from the facts above, the Dutch crowdfunding sector is well-established, offers diverse options in different sectors, and is likely to keep growing and evolving. So, let's explore it a bit more and get to know the top Dutch crowdfunding providers.

Introduction of the ESCP regulations
The ESCP harmonisation is described as a big win for the entire crowdfunding industry.
The main goal of the ESCP licensing is to create a new unified framework for the European crowdfunding industry. Adopting it means a platform can operate in all the EU states without acquiring a local "passport" in every country it wants to be present, as it previously used to be.
It also means that investors have a wider range of offerings, and on the other side of the deal, platforms get to reach a wider pool of investors.
In addition, under the ESCP policy, every project needs to disclose some additional information, such as calculating risks, payment arrears, and defaults.
In the Netherlands, the application process is rather costly. Ronald Kleverlaan, Chairman, at the European Centre for Alternative Finance at Utrecht University, comments in the following way:
Most shocking is the (high) costs for crowdfunding platforms to apply for a licence. Costs for a crowdfunding platform can be up to €100k, excluding legal advisory costs. This is only for the (one-time) application process.

On top of this, additional yearly costs are expected. Because ECSP regulation is a European regulation, these high supervisory costs could mean that Dutch crowdfunding platforms will apply for a licence in another country and still offer their services in the Netherlands.

So, getting the licence takes some substantial time and effort. Still, one realises the opportunity to expand beyond national borders and attract more investors.
Top 5 crowdfunding platforms in the Netherlands
To get a better idea of the crowdfunding landscape in the Netherlands, let's look at some of crowdfunding provider, and the sectors they represent.
CrowdAboutNow
CrowdAboutNow is one of the first crowdfunding companies in the Netherlands that has been operating since 2009. Based in Utrecht, it offers debt and equity loans to help entrepreneurs with their early-stage businesses. They work with fundraisers from a broad range of sectors: retail, healthcare, housing, food, and hospitality are one of them.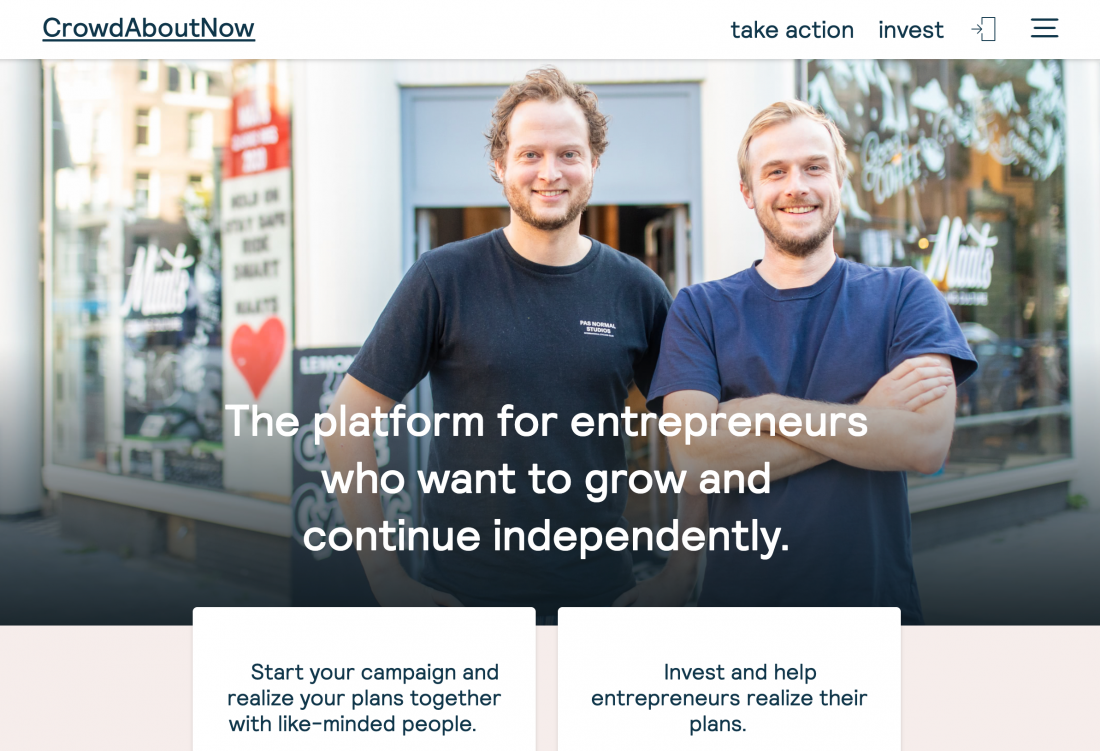 CrowdAboutNow help not only raise funds but also with the marketing side of the business. They focus "beyond financing" and give access to their vibrant investors' community to build a network, expand a customer base, and get a professional opinion to boost the startup's product or service.
Lendahand
Lendahand is based on a debt crowdfunding model and works with emerging markets. By investing in financial institutions and SMEs in countries like India, Peru, Indonesia, and Kenya, you help create jobs, improve the local economy and ultimately, fight poverty. Lendahand also participates in solar home systems installations, so that local families have access to electricity.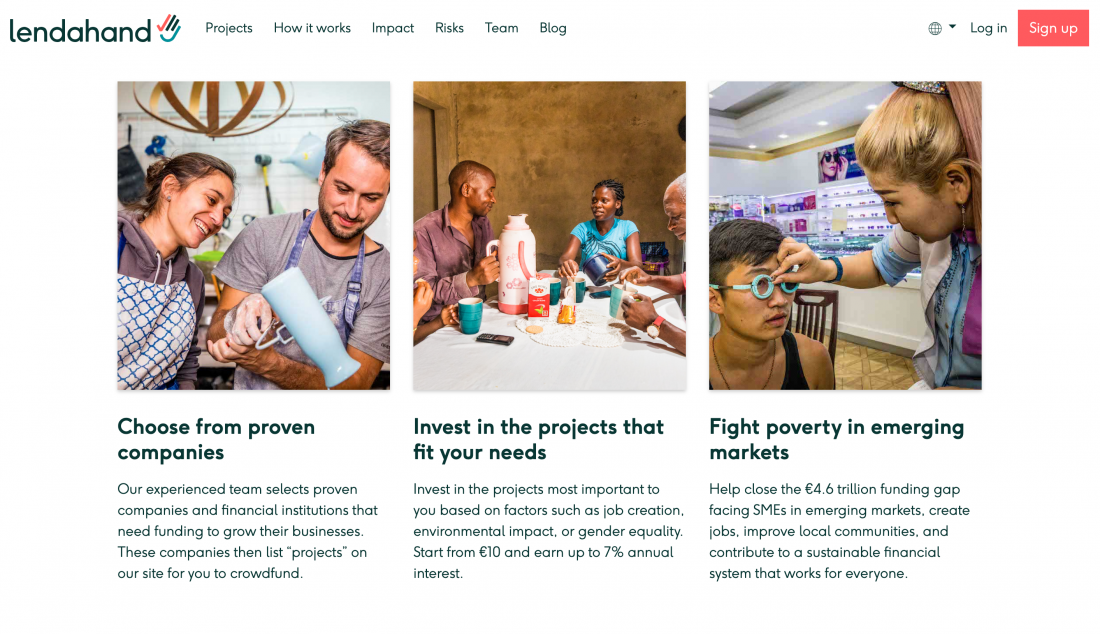 On the whole, there are various social investing options to choose from. You can try from as little as €10 and yield up to 10% interest returns per year.
In 2018, 2019, and 2021, Lendahand became "Crowdfunding Platform of the Year in the Netherlands". Now that it was the first to obtain the ECSP licence, the platform has already expanded to Sweden, Spain, and France.
Windcentrale
Founded in 2010, Windcentrale pursues a mission of accelerating the transition to green energy in the Netherlands and offers loans in windmill construction. Using a dedicated smartphone app, you can co-own a windmill and monitor the wind speed and electricity production level in real time.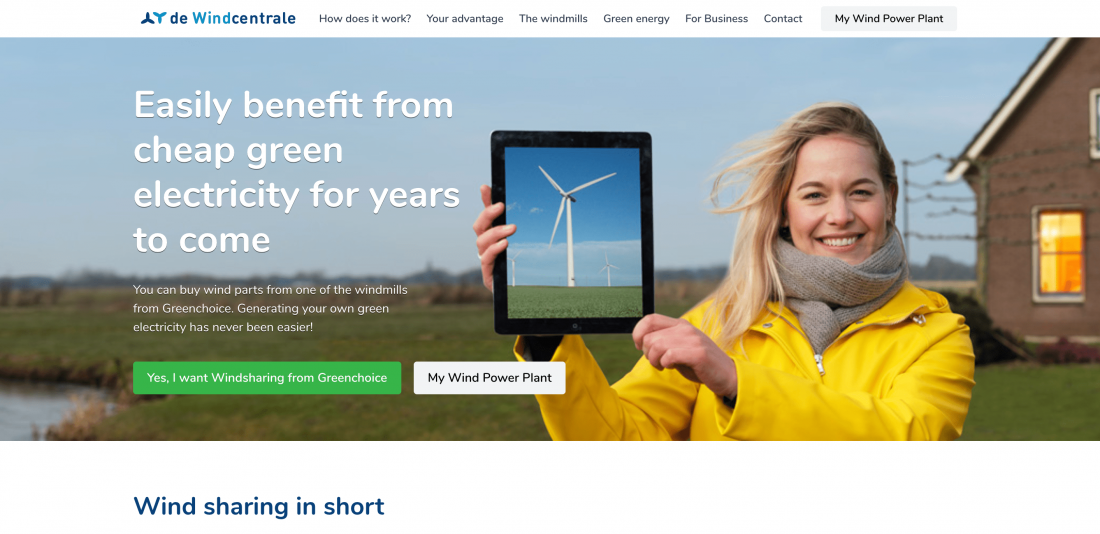 They build a windmill that then split into thousands of parts. Anyone can purchase as many parts as needed to cover electricity needs.
By investing through Windcentrale, you can enjoy the following benefits:
have your electricity bill go down;
help spread sustainable energy;
reach 6-8% return.
Collin Crowdfund
Collin Crowdfunding is a debt crowdfunding platform supporting Dutch small- and medium-sized businesses. Once they've realised that more than half of entrepreneurs struggle with financing, they've decided to bridge that gap by taking the banking model as a basis and enhancing it, considering investors' and business owners' needs.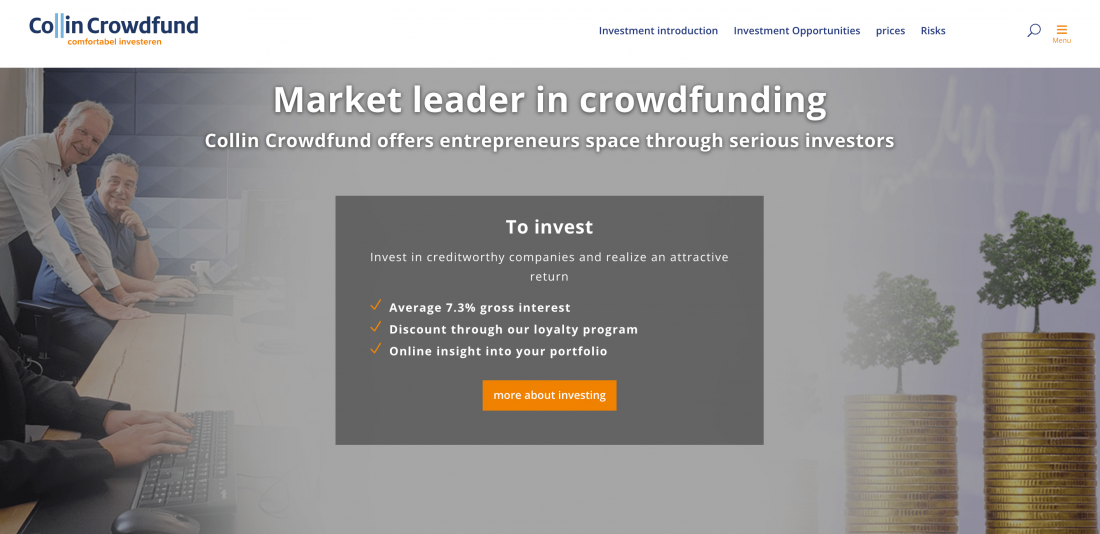 Collin Crowdfunding also aim to preserve human contact by allowing investors to choose the loans they put their money into.
In this way, they get a chance to support businesses sharing common values, and entrepreneurs receive the funding. All in all, it keeps the economy going and growing. Win-win for all the parties involved.
The min investment starts with €100, but if the loan exceeds €250,000, then the min investment amount starts with €500.
Lender & Spender
Lender & Spender is a P2P consumer loans platform specialising specifically in direct individual loans to borrowers. People can apply for a loan to buy a car, fix an existing one, install a solar panel, or have the house renovated.
Its model aims to provide a more attractive alternative to traditional banking, making the process more transparent, straightforward, and efficient.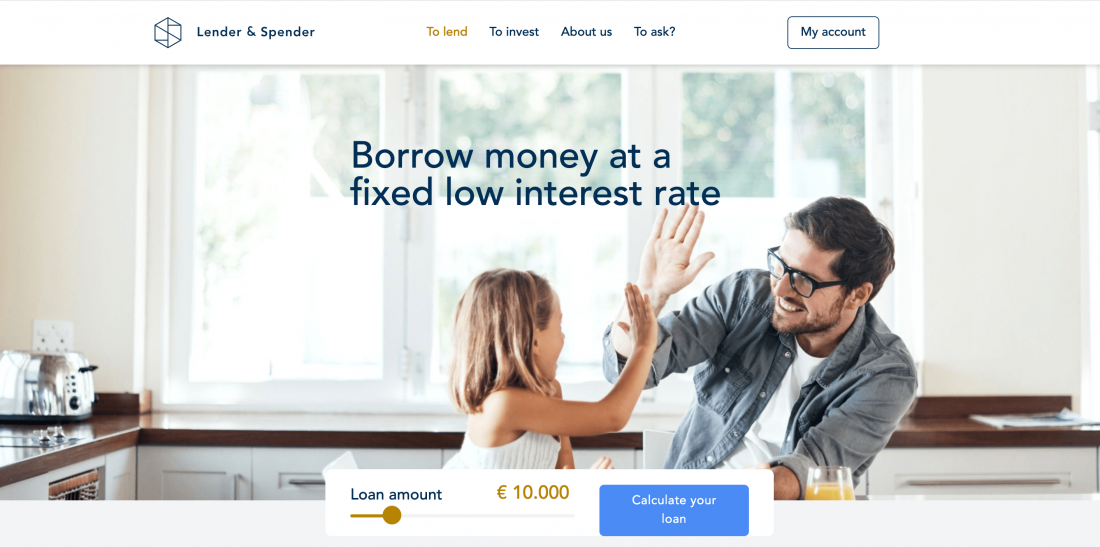 Up-to-date Lender & Spender has already lent over €100,000,000, proving their business model is legitimate. They offer 4-6% return through low-risk consumer loans from Dutch-based borrowers with high creditworthiness.
Final thoughts
As you can see from the few examples above, the crowdfunding climate in the Netherlands is dynamic. There are plenty of options depending on your needs and ambitions. While crowdfunding risks haven't disappeared anywhere, and there is definitely a learning curve under the new crowdfunding regulations, its concept has proven to be a viable business model.
So, remember to keep your portfolio safe & solid and enjoy exploring the diverse Dutch crowdfunding market further.