Crowdfunding in Estonia: market overview and top players
If you have ever looked up any crowdfunding platforms, you must have noticed that a big chunk of them are based in Baltic countries.
Seems like crowdfunding is truly getting momentum there. Naturally, we can't help but research this phenomenon.

We have already covered crowdfunding platforms in Latvia, and are proceeding to the Estonian market in this piece.
Crowdfunding regulations & business environment in Estonia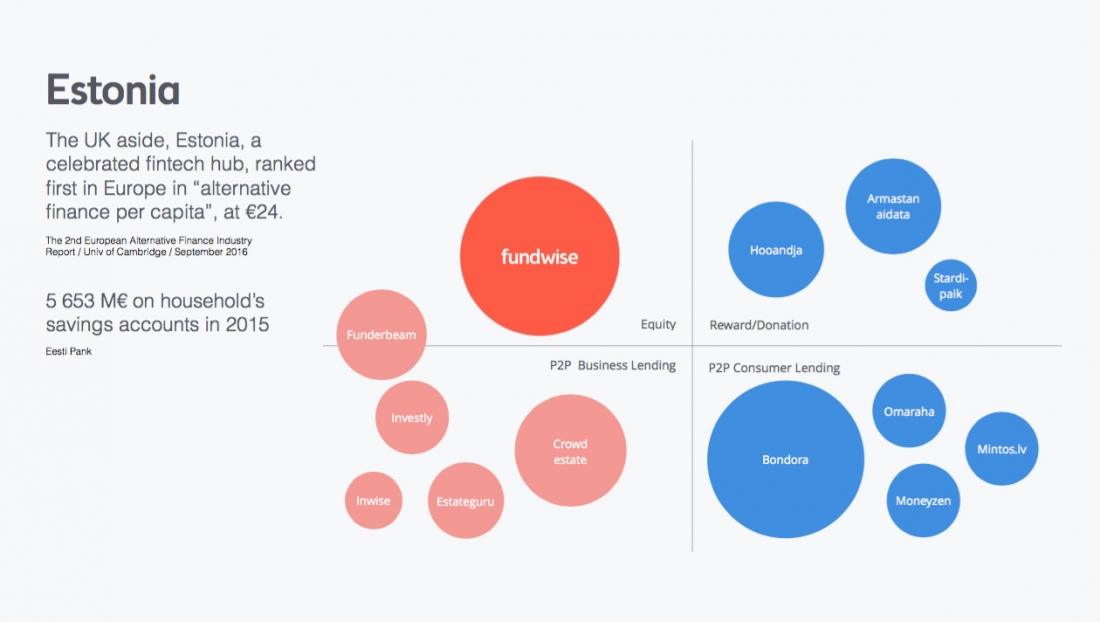 Before jumping on to an overview of the top crowdfunding platforms in Estonia, there are a few general facts worth noticing.
Did you know that some Estonian crowdfunding platforms go back a decade?
This means that crowdfunding in Estonia is a fairly established market that has been operating for some time now and has proven to be viable. 
Secondly, Estonia's business climate combined with an advanced IT industry significantly contributes to the crowdfunding industry evolution.
Since the term "business climate" is a rather complex notion, it'd be nice to have some examples of what it comprises.
For instance, in the UK investors willing to build a solid passive income with P2P lending, often compare it with bonds.
For some reason, they view it as a more traditional and more reliable alternative. Spoiler: it's not and here is why. 
But still, just like P2P lending, bonds are a working investment opportunity, right?
In Estonia, on the other hand, the bond market essentially doesn't exist. This means that crowdfunding platforms have less competition. 
Together with other conditions, it benefits a crowdfunding-friendly environment.
Lastly, crowdfunding platforms in Estonia fall under European Parliament's regulations since it hasn't introduced any crowdfunding regulations of its own. 
Nonetheless, Estonia has private voluntary practice set up by Finance Estonia and Deloitte Legal that aims to make crowdfunding platforms more transparent to customers. 
Again, the fact that these services are in demand, confirms that crowdfunding in Estonia is thriving.
One of the recent Estonian crowdfunding ventures that has made headlines, is Bondora. 
It will be the first destination in our top Estonian crowdfunding platforms tour we are about to embark on.
Top 5 crowdfunding platforms in Estonia
Buyback guarantees: no.
Auto-invest: yes.
Secondary market: yes.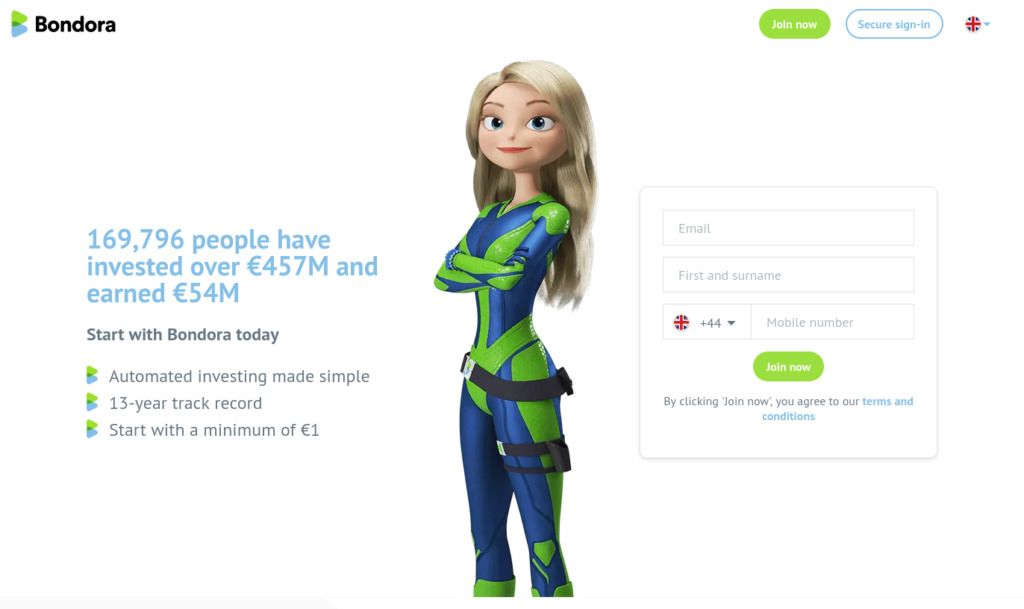 Bondora is one of the largest and oldest peer-to-peer lending platforms in Europe.
They opened in 2009 and have processed loans worth more than 250 million since then, which is quite impressive.
Bondora is not only a P2P platform that connects lenders with borrowers, but it also takes the role of the loan originator.
So there are no extra third parties or middlemen involved. Bondora takes investors' funds and lends them directly to borrowers.
The platform serves loans in Estonia, Spain, and Finland.
Key takeaways:
User-friendly and intuitive platform: you can register with your Google or Facebook accounts. 
Straightforward terms & conditions. 
Responsive customer support.
Automated investment strategies and plans which are especially handy for people willing to build a steady passive income. 
No buyback guarantees: you'll need to diversify your investment portfolio as much as you can to manage the risks.
Buyback guarantees: yes.
Auto-invest: yes.
Secondary market: no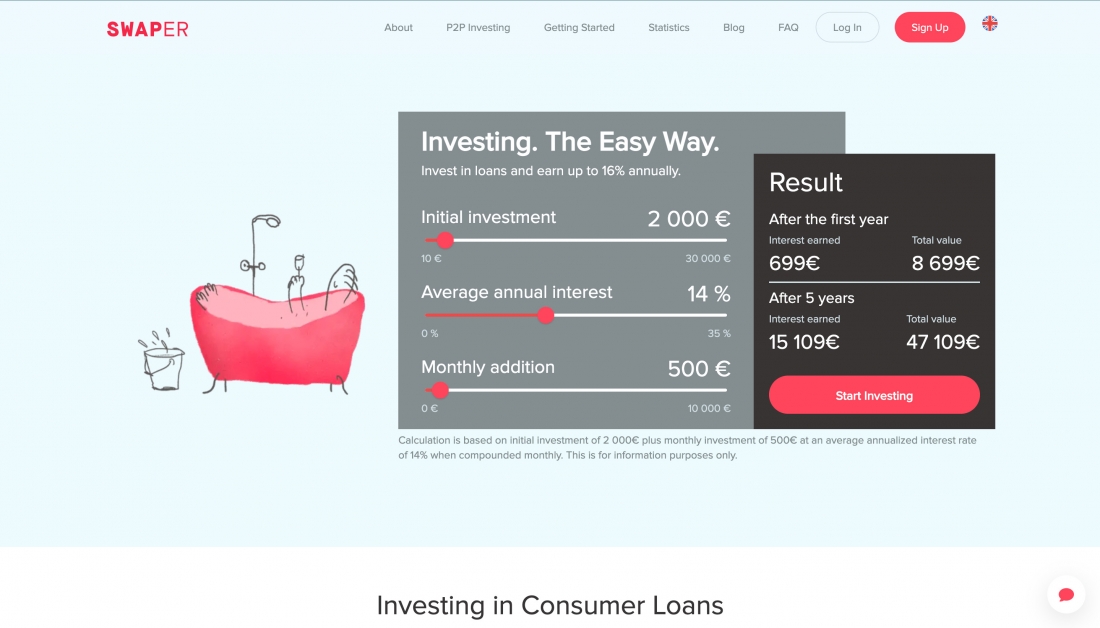 Unlike the previous crowdfunding website, Swaper is a relatively young yet dynamic P2P platform launched in 2019.
They made it pretty quickly, attracting 4000 investors and 160 million in investments.
Swaper works with one loan originator, a company named Wandoo.
It's a fintech business providing financial services and an IT ecosystem.
Key takeaways:
30-day buyback guarantees: if the loan goes default, you'll get your money back within this period.
The platform has intuitive touch-and-look. iOS and Android apps are available, too.
Poor loan choice compared to other P2P lending platforms.
Multi-currency: you can invest either in EUR or GBP.
High returns.
Buyback guarantees: no.
Auto-invest: yes.
Secondary market: no.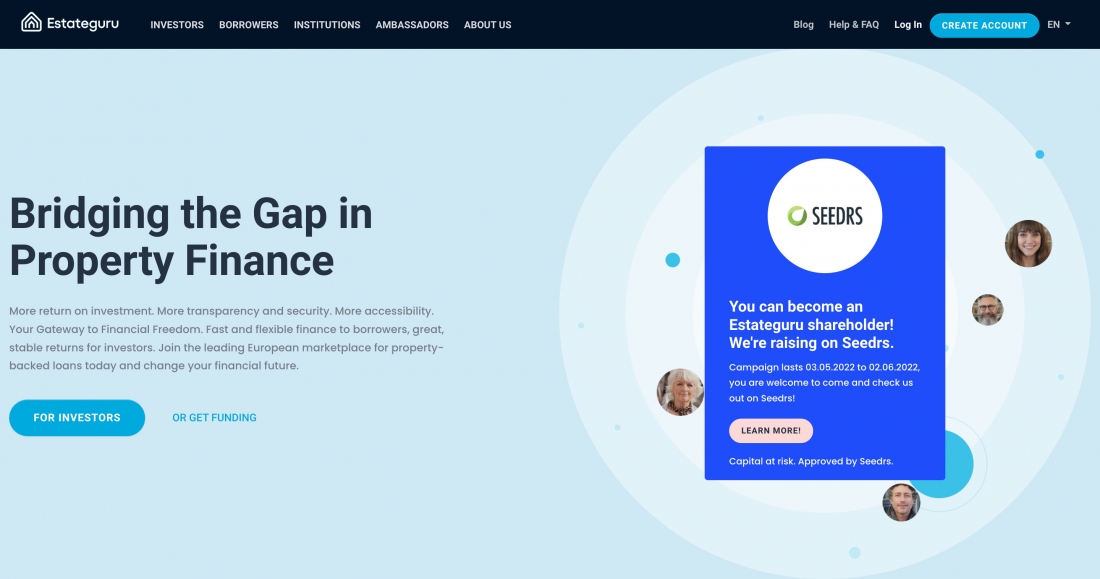 EstateGuru is claimed to be the most popular and reliable property crowdfunding platform in Europe.
Per the recent statistics, EstateGuru has funded over 500 loans, among which only one defaulted.
Another trust factor is that EstateGuru's financial reports are audited by Ernst and Young, one of the world's largest companies providing audit services.
Rare crowdfunding platforms provide audited financial reports, and what is more, disclose them to the public.
On top of that, EstateGuru was recognized as a Good Practice Label by Finance Estonia.
Key takeaways:
Reliable investment property loans backed by a mortgage.
A well-established property crowdfunding platform.
Most-recommended option to diversify your investment portfolio.
Poor liquidity: you can't withdraw your funds whenever you want to.
No short-term loans.
Buyback guarantees: no.
Auto-invest: no.
Secondary market: yes.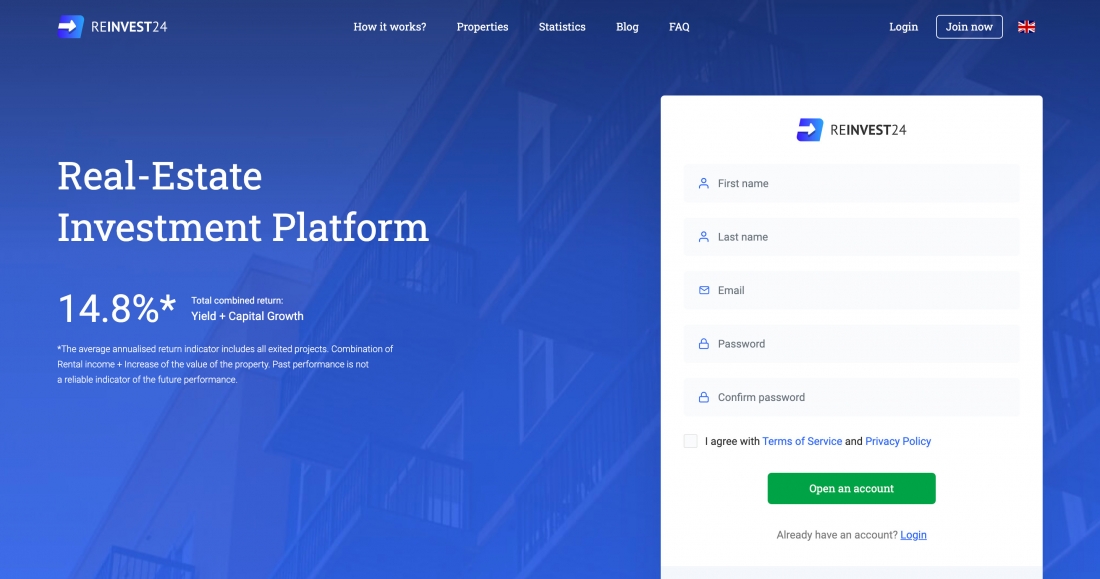 Reinvest24 is a real estate crowdfunding platform with a good track record that offers loans in Baltic real estate. It functions differently from other property crowdfunding platforms.
Its business model offers two major options:
equity-based crowdfunding projects;
rental deals.
The platform is more suited for experienced investors who are willing to invest larger amounts long-term.
Reinvest24 has high requirements involving some paperwork and higher-than-average initial investment fees.
Some rental deals undergo a long funding period, so your investment isn't likely to bring any returns for at least several months.
What makes it trustworthy, is Tanel Orro's, Reinvest24 CEO, active engagement on YouTube.
He speaks a lot about the platform's workflows, policies, and new crowdfunding projects.
Key takeaways:
Great communication and transparency thanks to their CEO.
Regular passive income opportunities.
Limited diversification.
Higher entry barriers for investors.
Buyback guarantees: yes.
Auto-invest: yes.
Secondary market: no.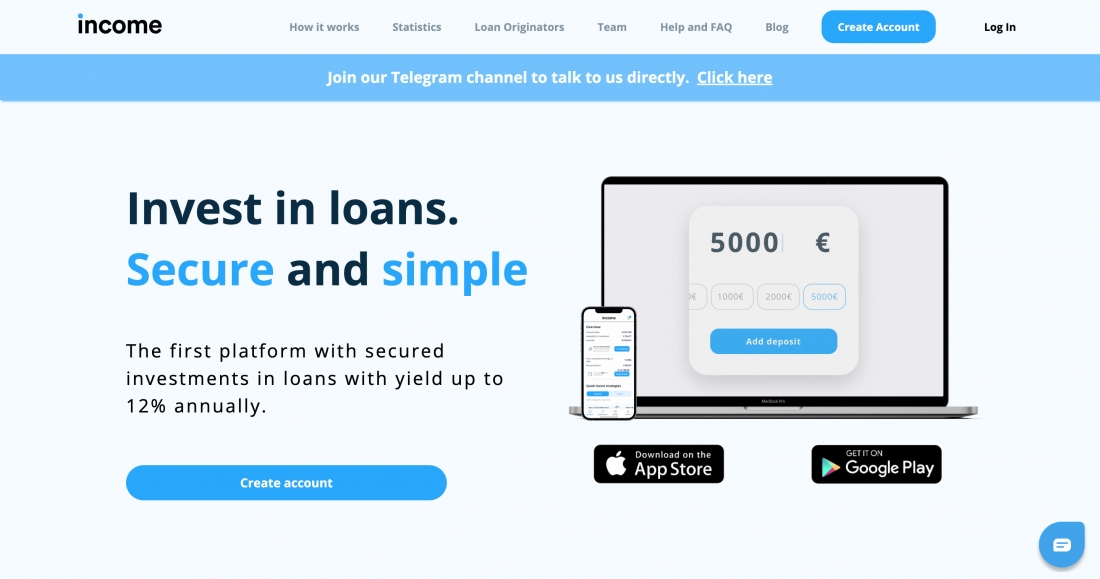 Income is a brand-new P2P lending platform that was launched in 2021. It allows investing in loans from six different lending companies that are present in different markets.
One of Income's core characteristics is transparency about statistics, loans, and overall performance from the six loan originators.
It actually brands itself as the safest P2P marketplace in Europe and is implementing some additional protection mechanisms.
For instance, in case of a default, investors will be the first to get repaid before loan originators. Should loan originators default, Income takes the responsibility to repay investors.
Key takeaways:
Innovative protection measures.
Easy-to-use website.
Diversification opportunities in various markets.
Short track record.
Final thoughts
Crowdfunding in Estonia is a rapidly-growing area that attracts more people by giving them a chance to access areas that historically have been difficult to enter. Real estate crowdfunding is one of such.
Another key factor is Estonia's advanced IT infrastructure in many public areas.
For example, it takes just a day to register a company online. All you need is an ID card or mobile ID.
All in all, things keep looking promising for Estonian crowdfunding.
As effortless as it may sound, new investment opportunities always come with a certain deal of risk.
Luckily, there are plenty of resources to find out about them in advance.
We, here at CrowdSpace, are happy to share recommendations and best practices from the experts, to help you with that.