What does it take to create a great crowdfunding campaign?
According to statistics, the global crowdfunding market will triple by 2025. Every year, more and more platforms appear that are ready to convey your ideas to the masses. Today you can raise money for any project that the crowd finds attractive.
People are willing to donate their money to anything that benefits society, from a smart spoon to a medical centre in South Africa. The question arises, how can you create a successful crowdfunding campaign for your project?
Really, there is only one step from a successful company to a failed one. Someone raises money for their project in one day, and someone gets nothing.
In this article, we've compiled the top 5 tips to help you launch a successful crowdfunding campaign.
1. Do research
Surely you think that your idea is unique and no one else in the world can repeat your invention. Believe us, this may not be the case at all. Most of the ideas have already been implemented or have failed miserably.
Through such research on various platforms, you will be able to identify the strengths and weaknesses of your competitors or the industry as a whole. Moreover, the negative experience of other campaigns will help you avoid serious mistakes. A good example of this is the Coolest Cooler crowdfunding campaign on Kickstarter.
Coolest Cooler — this is a device that fits a refrigerator, cutting board and blender. In addition, the developers of Coolest Cooler have equipped it with connectors for charging mobile devices and even Bluetooth speakers.
Who might like this?
Instead of the requested $50 thousand, the project raised more than $13 million.
What went wrong?
As it turned out, the project founders did not think about logistics, and in practice, the costs of it turned out to be underestimated: apparently, almost five years later, not all sponsors of the project received their wonderful refrigerator.
CrowdSpace tip — explore 20 projects similar to your idea. Check out their profiles, reward types and promotions. Take the best and bring it to your project.
2. Choose the right crowdfunding platform
Perhaps you are thinking about popular platforms like Kickstarter or Indiegogo. Actually, these platforms are crowdfunding dinosaurs and a lot of money flows through them. According to statistics, as of October 2019, a cumulative total of more than $4.6 billion were pledged towards Kickstarter projects.
We recommend considering as many platforms as possible that are specific to certain industries and niches. For example, the French platform Patreon.
If you are an actress, musician or director, you can collect donations for the development of your creativity in exchange for open access to your files on the Patreon.
Another example is Сitizenergy. Citizenergy is a crowdfunding platform that specializes in solar energy projects.
The platform operates in 20 countries and has already raised € 41,936,545 for its projects. If you want to lead the solar revolution, probably your like-minded people will be able to appreciate it precisely on such highly specialized platforms.
What we are talking about?
The right choice of platform is the key to the success of your campaigns. The choice is not limited to Kickstarter and Indiegogo, you just need to dig deeper.
3. Present your idea brightly
You need to think like a designer or marketer and present your project vividly. Your campaign should be different from other ideas.
Must-have tips for a project profile:
A clear description of the idea. Write the benefits of your product/service and why it is so important to society.
Add an advertising headline that could become your brand's slogan in the future.
Add your brand story. Tell about yourself, your company and team to show that you are real people, not scammers.
If you have a logo, be sure to attach it to your profile.
Add GIFs and photos of the future device to your presentation.
Video! Create a video presentation! This is much better than descriptions. It is more convenient for users to watch a video than to read a long read.
Share links to your social networks, the more people know about you, the better.
Don't lie. Indicate at what stage of development you are and describe the future work plan.
Pay your attention to the presentation of the Yak Grills project on Indiegogo. Guys indicated all their advantages and have already collected more than $150 thousand out of the declared $15.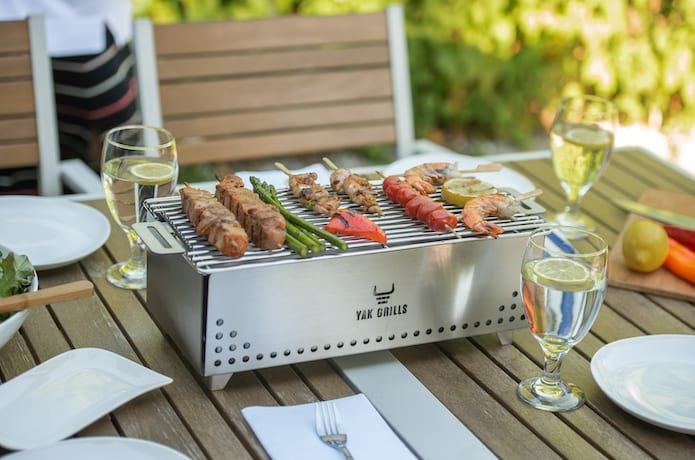 4. Use services for crowdfunding campaigns
Thanks to modern services, you can not only advertise your project, but also easily find new sponsors. Apps like Kicktraq can help you easily monitor your company's Kickstarter funding.
Another example is crowdfunding marketing and PR tool — Krowdster. With Krowdster you can analyze your crowdfunding campaign and promote it on Twitter. Krowdster can find new sponsors and set up targeted Facebook ads.
We also recommend Justreachout.io app. The main idea of this tool is that startups should not hire PR agencies to promote campaigns they can do it on their own. If you are on the same page, Justreachout.io is exactly for you.
Unlike Krowdster, Justreachout.io helps to find journalists and publishing opportunities so that as many users as possible know about your idea.
5. Make your reward worthy
Make sure your reward motivates people to give you their money. Offer your product or service in exchange for a cash reward. Nobody is interested in hearing just "thank you", you need an individual approach that can interest your sponsors.
A great way to express gratitude to your supporters is to include them in a "thanks" video. Everyone is pleased to know that once they have become part of something new and useful to society.
Option #2 is to organize a party for your backers, even if you haven't reached your financial goal. It could be an online zoom party where you can share your plans and can personally thank all the investors.
A creative method. You can embody whatever you want. Send a handwritten card, fulfil a wish, or even create a personalized ice cream like the guys at 3 Scoops Cafe did. By donating $200 to the ice cream cafe expansion, each backer will receive a personalized ice cream flavor or frozen drink named after them. 3 Scoops Cafés promise that dessert will be on the menu for one season.
The main thing we wanted to say in this article:
Unique idea ≠ financial success. Much more depends on how you present your product or service.
The more people aware of your campaign, the better. You can use YouTube ads, tweets or Instagram story ads. The main thing is to find a place where your target audience lives.
The world of crowdfunding is not limited to Kickstarter and Indiegogo. Choose a platform based on your goals and industry.
Track your competitors and do benchmarking.
Always thank your investors, even if you have not reached the financial goal. Who knows, you might succeed the second time.
There is no unique formula that promises you success and financial support. We continue to explore the crowdfunding world, if you have ideas for creating your own project, you can always reach out to us.