How to market your crowdfunding business
Create a crowdfunding platform, get the authorisation and finally breathe out, because half the job has already been done.
Now all that remains is to find clients and get the long-awaited returns. How to do this if your crowdfunding platform is the new kid on the block?
Our answer is a marketing strategy.
You're probably thinking that you need everything from PPC ads to targeted ads on LinkedIn or maybe even banners all over the city?
In this article, we'll talk about the top marketing channels to help market your crowdfunding platform.
What is marketing and why you need it?
Or rather, why the word of mouth doesn't always work.
According to Investopedia, marketing is attracting a potential audience through advertising.
Dan Kennedy also said in his book "Ruthless Management of People and Profits" that there is nothing more important than marketing and if you, as a business owner, do not understand this, hire a marketer, otherwise, your boat will not float far.
Believe it or not. Thanks to recent JustCoded research,
14% of platforms allocate more than 30% of revenue on marketing activities while 41% of the companies allocate 5% or less.
Which ones are more popular?
Finding money for marketing is not easy when you are only at the start, but it is even more difficult to figure out how everything works and which channel will bring your customers.
We will not focus on the origins of marketing and list all the great marketers, we are going to explain that marketing is divided into: inbound and outbound.
Inbound marketing includes various webinars, social media, and any paid advertising. In general, if you just want to declare yourself and have not yet compiled a portrait of your audience, this option is not a bad place to start.
Outbound marketing includes TV / radio, workshops and trade shows, emails and cold calls.
To be honest, for crowdfunding platforms, outbound marketing can be useful as emails campaigns, when you already work with a specific customer base and know their pains and needs.
How to create a successful marketing strategy?
A marketing strategy is a kind of research that identifies the needs of customers and satisfies them following a specific plan.
If you decide to develop a marketing strategy yourself, please be patient, as the process is not quick and requires a lot of effort.
Aspiring marketers often make the mistake of transferring someone else's marketing experience to their business. It's impossible to replicate the Kickstarter's success by simply following they example without a unique idea.
At least Kickstarter was one of the first platforms, but now the competition is much more.
7 marketing channels that work in the crowdfunding market
Partnerships or affiliate programs
Partnerships are a proven channel that should be incorporated into a marketing strategy. Affiliate programs can be different: referral programs, exchanges of posts on social networks, etc. All this affects brand awareness.
Let's consider an iFunded example.
iFunded is a real estate crowdfunding platform designed for anyone who has contacts with potential investors.

By posting an iFunded referral link on your platform, you become an iFunded partner. Moreover, to the fact that you can earn a percentage of transactions through this link, you will also be presented in the partners' section.
Usually, crowdfunding platforms notify their customers about new partners, which means that a new target audience will know about you.
Personal networking
The next thing what you need to do is to create personal networking: share your idea with partners, contractors, etc. The more people know about your platform, the better.
How to build personal networking?
Start blogging on Waxy.org, Medium, or just Twitter. Your friends and customers will be able to share your updates with one click. By the way, Kickstarter also shared blog posts on Waxy in 2006.
Moreover, personal networking can be developed not only online, but also offline. This story especially works in the UK.
It seems that all business people know each other and that might help you. Don't refuse to come to your colleagues' Christmas meetings. At such parties, you can find future clients.
Events
We have already said above that at industries parties you can make the necessary connections with customers. What if you organise such an event yourself?
By organising an event, you show your potential clients your expertise, as well as allow you to better understand your priorities and business approaches.
If you don't know how to organise events, the professionals from The Crowdfunding Professional Association (CfPA) can help you. This organisation was created specifically to strengthen ties in the world of crowdfunding.
During a Covid-19 pandemic, you can organise an online conference with many speakers and even coffee breaks)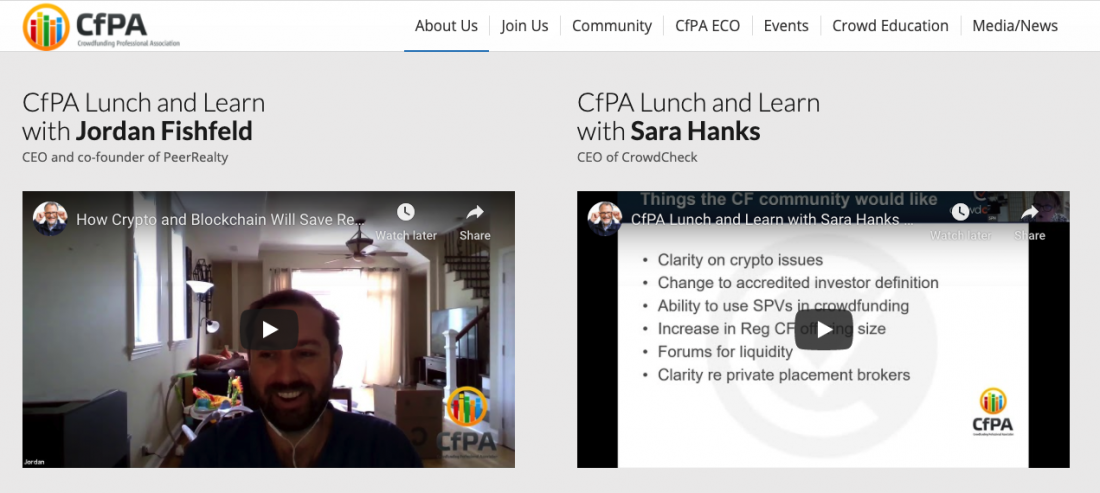 Organic search
Another key to a successful marketing strategy is organic search. No one will look at sites on the 10th page in Google. Everyone wants to be the first in the ranking that ia why you need a SEO.
SEO is a tricky part of marketing. It is better to hire an intelligent specialist who will audit the existing platform and then work on its issuance.
To get into the top 10, you need to optimise all the pages of your platform.
How about SEA?
Search Engine Advertising (SEA) is paid search engine advertising. In order for the advertisement to work, you need to correctly spell out the keywords that users most often enter the Google search.
For example, if you enter a Google query "property crowdfunding in the UK", the first users will see the following sites, which are used in their marketing strategy SEA.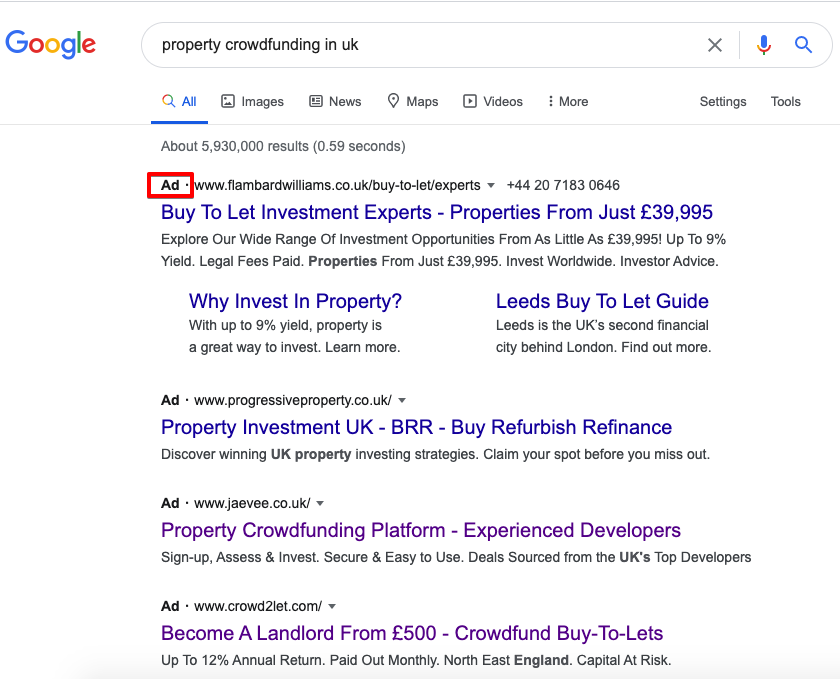 Social networks
Instagram, Facebook and Twitter made people information hostages. Every day, millions of users are looking for information and photos, taking part in surveys and just mindlessly scrolling the feed on social networks.
LinkedIn is the best network for crowdfunding market.
This social network was founded for professionals who teach others or want to learn something new themselves. By the way, this is another site where you can run your own small blog about crowdfunding.
In a marketing strategy, social media is somehow related to content. One article from the blog can be shared on social networks. You can even create a Slack channel for your sales team and spread articles, but not more often than once a day.
Moreover, now LinkedIn has a function "notify employees", which allows you to organically increase the output of posts.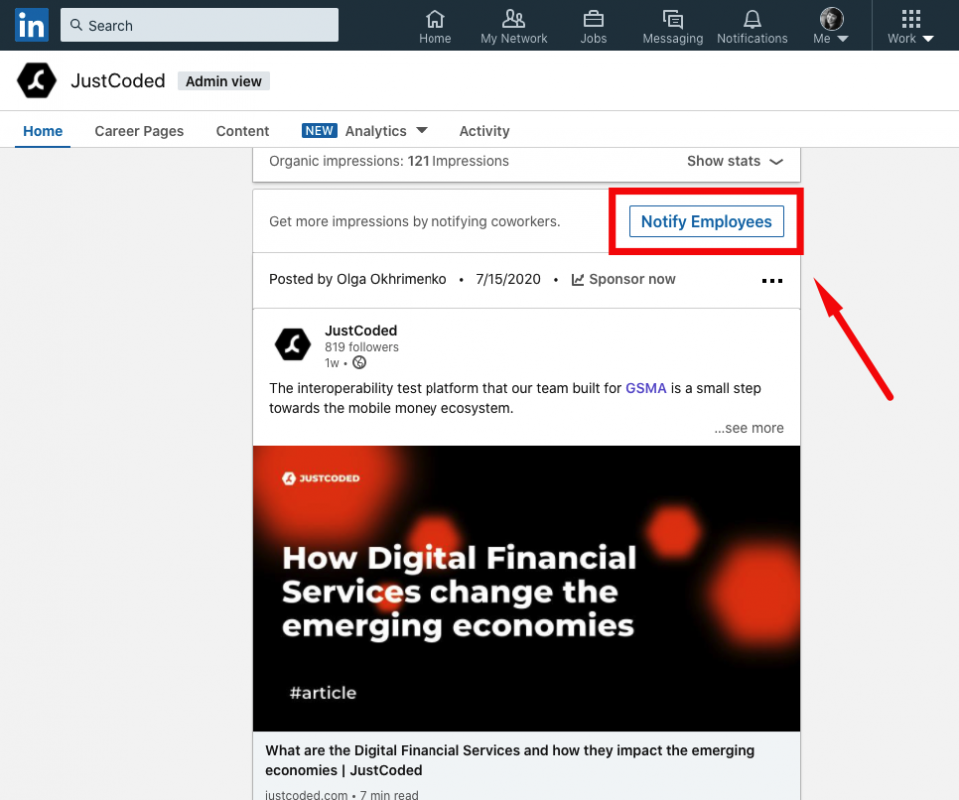 Email marketing
This is a quick and not inexpensive way to start your marketing campaign. While it is rather long and difficult to figure out SEO, then everyone can launch an email campaign.
You can independently track the success of your actions in your personal account.
What to write about?
Of course, you need to register a mailing plan so that your letters are useful and users do not have a desire to send them to spam.
We recommend informing users about your business updates, talking about new opportunities, showing successful deals, or inviting new customers to join your bonus program.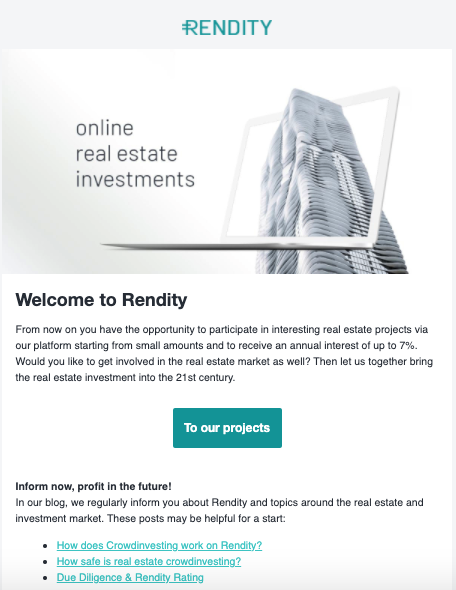 Content marketing
Content is king. According to CMI research, 72% of marketers say content marketing increases engagement.
The first thing people looking for alternative funding will want to do is find information on the internet and figure it out on their own.
They will look through all the sites until they find the information, which is why content is so important.
What articles do they read?
First, your article should be useful and understandable. Nobody wants to read an article that is written for a search engine. You also don't need to write about everything in the world, clogging up your blog.
Write not a lot, but do it well. One or two articles a week will be enough. At the same time, add to article pictures, statistics, quotes and even videos!
Partnerships are another proven channel that should be incorporated into a marketing strategy. Affiliate programs can be different: referral programs, exchanges of posts on social networks, etc. All this affects brand awareness.
Key takeaway
No business, including crowdfunding, can survive without marketing! This is the main idea that we wanted to convey in this article. It doesn't matter how your marketing strategy is put together, YouTube will probably become popular if you regularly shoot interesting reviews and your audience will appreciate them.
If you decide to throw everything into one backpack, we recommend that you pay attention to the scarce points:
Content is king! Without content, you will not be able to advance in organic search results and will be taking position of the 10 Google page.
SEO and SEA are your best friends. It's better to focus on SEO and spend money on a quality specialist than trying to implement everything at once.
LinkedIn is a treasure trove of contacts and leads if you learn how to use it wisely. Good luck!