How does real estate crowdfunding work?
The concept of crowdfunding is no longer something unusual in the financial sector. The word consists of 2 parts: crowd & funding, which means collective fundraising.
Crowdfunding is an excellent alternative to traditional financing in different fields, including real estate market. Today real estate crowdfunding is as easy as posting to Facebook.
First, let's understand what crowdfunding in real estate is?
The main principle of crowdfunding in real estate (also called property crowdfunding) is that a development project attracts financing from many unprofessional or retail investors. Simply put, from ordinary people. Retail investors buy and sell securities through brokerage firms. A striking example of such operations is the movie "Wolf from Wall Street".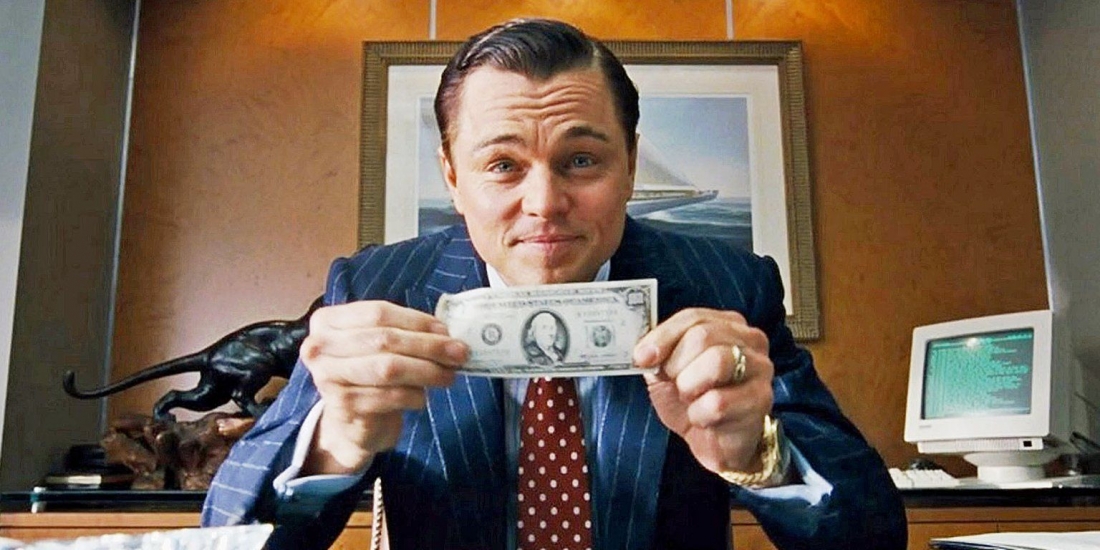 Another type of investors is called institutional investors. For these people, crowdfunding has become a lifelong business. This means these people or organizations are constantly investing in various projects at lower commissions.
For example, insurance companies or pension funds can be institutional investors. More often they invest other people's money. If you have insurance, most likely your money is already working.
Types of real estate crowdfunding
There are 2 types of real estate investing: debt and equity. The investor has to choose between risky, potentially high remuneration (equity) and a less risky transaction, but with a stable income. Risk always exists and the main rule of investing says — invest as much as you are not afraid to lose.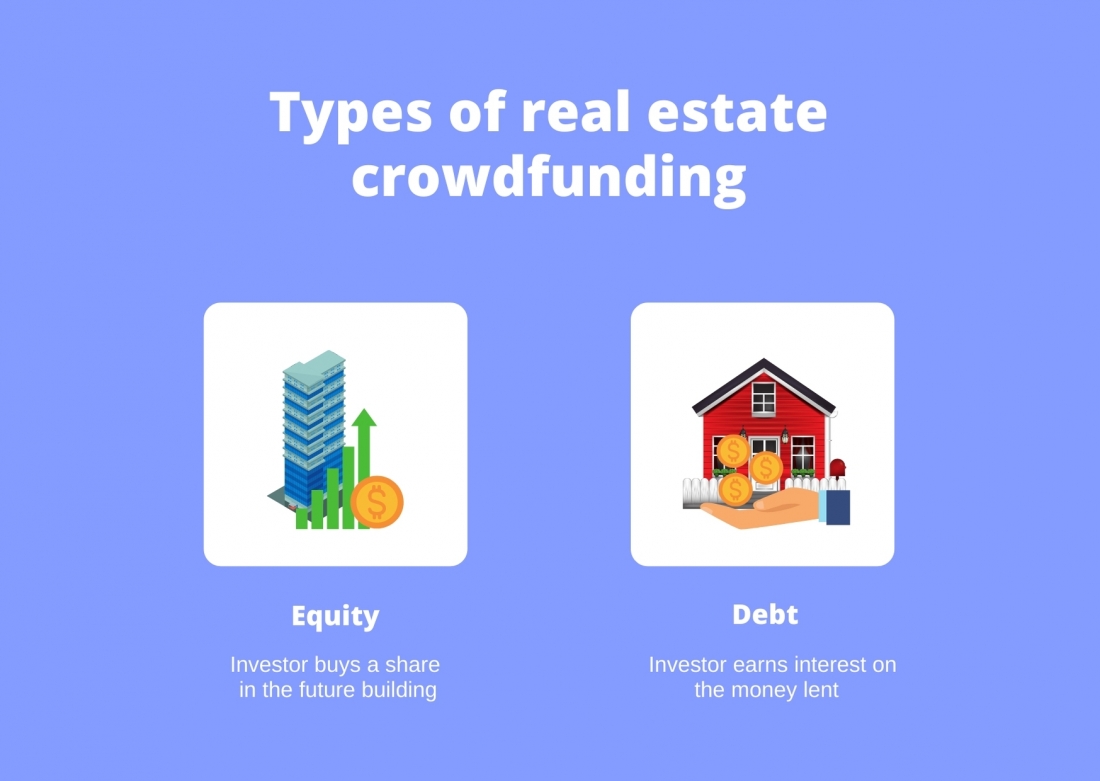 Both types of investing have their pros and cons, but at the same time, the investor always has a choice, which is good news.
Equity investments are a classic example of high risk in exchange for potentially big money.
Choosing equity crowdfunding, the investor receives a share in residential or commercial real estate. It means that a person becomes a shareholder and plays a long game. The larger the contribution, the larger the stake.
Even taking into account all the risks, equity investment is the most popular, inasmuch as it can bring from 18 to 25% or more percent per annum.
Moreover, equity investment has no financial limits and is often encouraged by tax incentives. For example, shareholders can deduct real estate costs from their annual income tax.
Cons:
High risks: everything is simple: no profit = no money. If the property you invested in doesn't take off, then you risk losing your money.
Longer hold period: the holding period usually lasts from 5 to 10 years. Unfortunately, that's going to have to wait.
Debt investments such as bonds or mortgages usually bring lower but stable returns. Roughly speaking, choosing a debt way, you become a lender for the property owner and get a fixed income that corresponds to a certain interest rate. Debt payments are transferred monthly or quarterly and you have priority when repaying property.
Cons:
High fees: platforms take a percentage of each transaction. Debt percentage is higher than equity.
Limited income: any debt investment is limited to the interest rate on the owner mortgage loan.
Who can invest in real estate?
Previously, investing was available only to wealthy people called accredited investors. Now everyone can invest, starting from a minimum amount of £100.
Real estate investing has become available to the majority of the population. It is these people who are called unaccredited or individual investors.
Accredited investors. Who is it?
According to Investopedia, accredited investors are people whose annual income is more than $ 200,000, and if this is a married couple, then more than 300,000.
They have more advantages, for example, investing in securities, but at the same time they manage big risks.
What to invest in?
Among the whole variety of real estate allocate commercial, residential and real estate for further rental are known as buy-to-let.
So, if you decide to invest in shopping malls, parking lots, office buildings or markets, most likely you are interested in commercial real estate (CRE).
Commercial real estate is divided into 4 main groups: office, industrial, multi-apartment and retail. Depending on the space, these groups are divided into classes from A-C, where buildings that are over 20 years old belong to the C-class.
By investing in commercial real estate, you will earn higher property prices on sale or higher rents to tenants.
Residential property
These are ordinary residential areas where we live. The usual mortgage is a good example of residential real estate investment. But if yesterday you had to resort to bank services, today you can find like-minded people on a crowdfunding platform.
Unlike commercial real estate, residential real estate cannot be used for industrial purposes, but can be leased.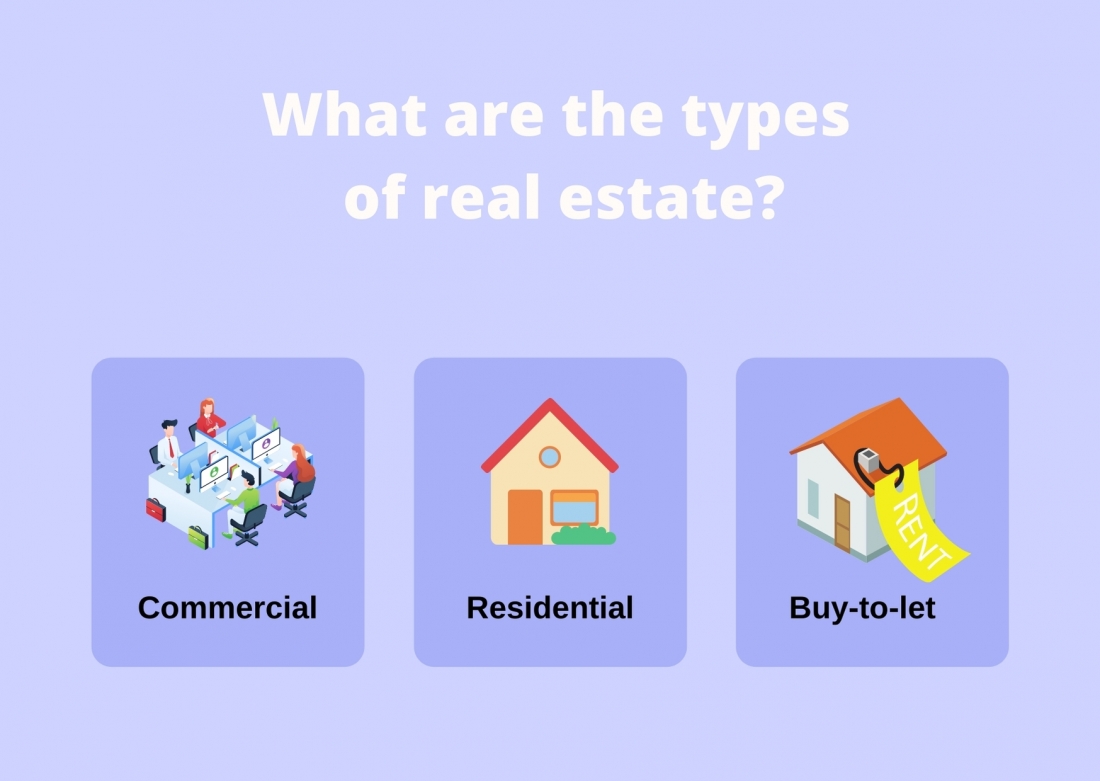 Buy-to-let property
Buy-to-let is gaining popularity in all the world, as it is:
a stable income stream;
capital growth;
a long term investment.
This model works as simple as possible:
you select the object on a crowdfunding platform;
investors like you also choose this property;
you are co-financing this project;
you get shares proportional to the investment;
the platform or the contracting company finds a tenant;
you get your money, after paying all the costs.
What do you need to know before investing in real estate?
Before you start investing in real estate you need to know all the risks, since no platform will give you a 100% guarantee. Further you need to choose a crowdfunding platform and decide on the type of investment (equity or debt). If you want to play a long game, then choose equity, if you prefer stability, then debt is your choice.
We recommend looking through with the investment conditions of a particular crowdfunding platform, as the conditions may vary.
TOP 5 crowdfunding platforms
If you google the "Top 5 crowdfunding platforms" query, you will undoubtedly find a lot of sites where Kickstarter is the first one in the list. We have compiled our set of platforms that might interest you.

Type: equity
Years on market: 6
Minimum investing: £500
Main feature: a good example of buy-to-let investment.

Type: equity
Years on market: 4
Minimum investing: £20 000
Main feature: prop-tech platform based in UK.

Type: equity
Years on market: 6
Minimum investing: £25,000
Main feature: investing in purpose-built student accommodation and commercial properties in the UK.

Type: equity
Years on market: 5
Minimum investing: £1,000
Main feature: an online platform for prime property lending and investing.

Type: equity
Years on market: 15
Minimum investing: €100
Main feature: great rental yield around 8%.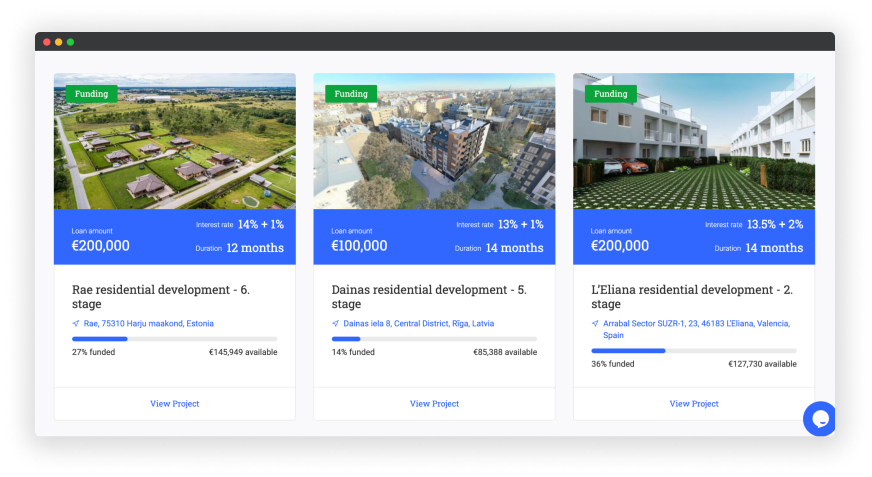 Bottom line
Unlike traditional methods of investing, crowdfunding in real estate has developed rapidly and has become available to most users. Today, investors choose what to invest in, from hotels, shopping malls, student hostels to luxury real estate on Baker street.
3 messages that we would like to finish this article with:
the biggest advantage of property crowdfunding is simplicity and easiness, without bureaucracy and banks;
real estate crowdfunding can bring up to 25% of annual income, but it is subject to a relatively small tax rate;
investing in real estate is a very risky business, no one will give you any guarantees that your investment will pay off;
The last point is the most important. Before deciding to invest, you need to focus on the all pros and cons, read all the investment conditions and only then make a big deal.