Equity crowdfunding for small businesses
Starting a business or growing it is a challenging process, and of the biggest hurdles an entrepreneur can face is raising capital. This is especially true for small businesses that don't have a network of investors or have low chances to qualify for a bank loan. This is where equity crowdfunding comes as a viable solution to obtain the necessary funding.
In a nutshell, equity crowdfunding is a method of raising money from a large number of investors in exchange for equity shares. The process happens on equity crowdfunding platforms that connect business owners with investors. Understandably, this capital raising alternative isn't perfect and has some pros and cons for both sides involved, so let's have a deeper look to see what equity crowdfunding can potentially offer to small businesses.
How does equity crowdfunding work for small businesses?
Early-stage businesses and startups consider equity crowdfunding to access a large investors' pool, obtain capital and promote the product from a marketing standpoint.
Investors, in return, acquire partial ownership of the business in return for the funding they invest. If the company makes it, investors can see their stakes increase and bring profit. Similarly, if the business fails, their shares aren't worth anything. Unlike debt crowdfunding, where investors can see returns sooner, one may need to wait longer for the company to make a profit.
On the other hand, crowdfunding has democratised startup investing, since it previously used to be accessible only to business angels, venture capitalists and wealthy individuals.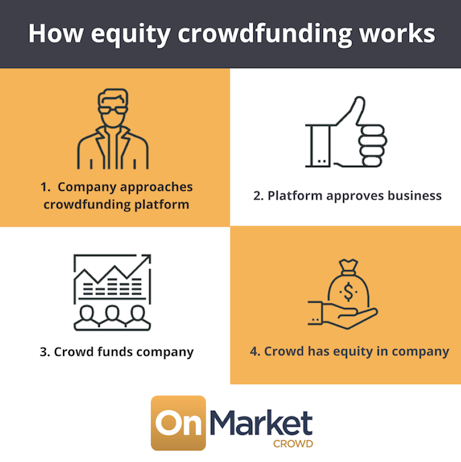 The entire process happens online on specialised platforms where business representatives can create their project profiles with pitches, financial and legal info, etc. Keep in mind that every platform may have its own policies and rules. For instance, it may foresee a percentage charge of the funds collected as a service fee or it may offer a membership plan for both investors and fundraisers. Many equity crowdfunding providers also offer additional services which cost something. Those may include accounting, legal consultations, or marketing campaign tools.
Equity crowdfunding pros and cons
While it's important to remember that equity crowdfunding is considered high-risk, it doesn't eliminate the unprecedented opportunities it offers. So, let's sum up what's good about it and how these advantages correlate with small business needs.
Easier capital access.
It's clear that there is no way a platform can guarantee that your company pitch gets the feedback and hits the funding target. Still, more and more projects are getting financed via crowdfunding every year. Given your business plan is well-designed, the marketing part is in order, and the project idea resonates with the investors, there are definitely more chances to win the necessary capital quicker and easier. 
More network opportunities.
Equity investors can bring their expertise to the table which may foster positive changes for the business. It's a nice way to build lasting partnerships or connect with people who can help build them.
On the other hand, you start growing your audience and early brand supporters by spreading the work and the product or service by leveraging the marketing tools equity crowdfunding provides.
Chance to make a difference.
From the investors' standpoint, it's a chance to contribute to businesses they are passionate about and help them grow.
By raising capital via crowdfunding, entrepreneurs also have more chances to engage with investors who share common values.