Real estate syndication vs crowdfunding: two investment alternatives explained 
As the investing world keeps evolving, so do various investment types and forms. The real estate sector is no exception. What stays the same, though, is real estate investing reputation as one of the most reliable and attractive investment opportunities.
You may have noticed that one of the standard recommendations for a solid investment portfolio is to diversify it by including a real estate loan. In this article, we will focus on the two real estate investing options often compared these days: real estate syndication vs crowdfunding.
What is real estate syndication?
Real estate syndication implies forming a pool of investors who group their capital to invest in large real estate deals. In other words, it's a funding structure. The deal sponsor is a person with expertise in property development who handles all the hassle of managing the project on a daily basis. So as a result, the syndicate forms a partnership between a sponsor and a group of investors.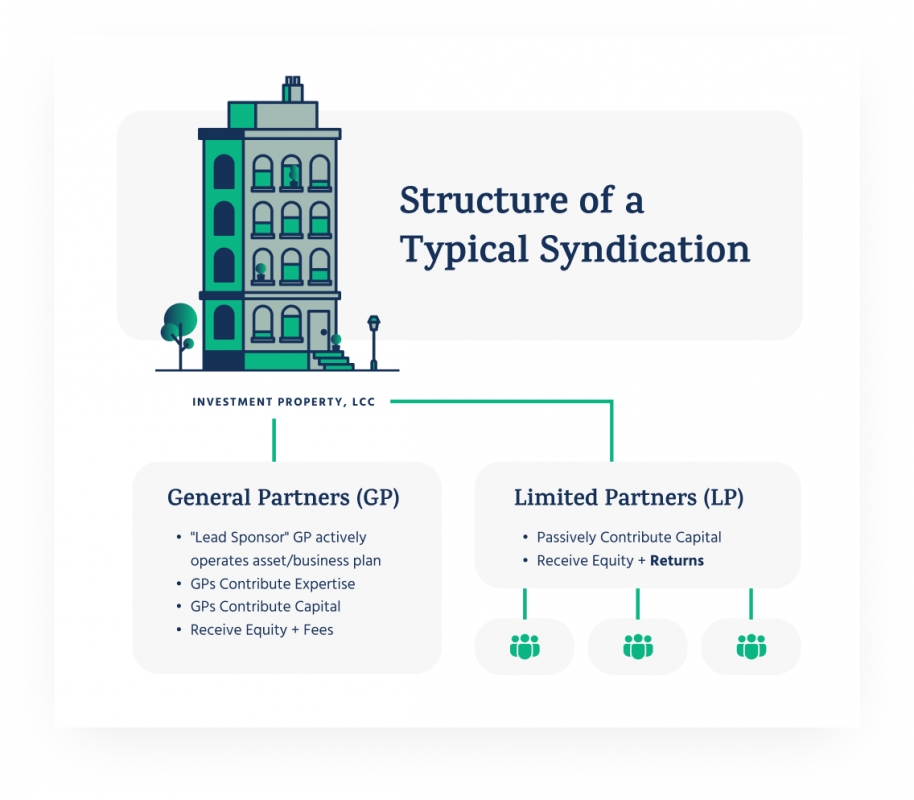 Real estate syndication allows investors to afford deals they would otherwise not be able to access. As a rule, real estate syndication companies participate in larger projects, such as building a commercial complex or an entire apartment block without experience and knowledge in legal aspects, property management, and maintenance. Instead, the syndicate sponsor is the role carrying out all these responsibilities.
So, the bigger investment, the higher returns and more stable cash flow for all of the members of the syndication agreement.
Real estate syndication pros
Based on the description above, a real estate syndication agreement has the following benefits:
Access to larger and more profitable projects.
More reliable since high-value properties are involved.
A great source of passive income.
Real estate syndication cons
If done right, syndication can be a decent choice. Yet, there are still potential downsides to consider:
Risk of running into a scam investor or sponsor. While syndications are typically known for their reliability, verifying the parties involved is still important before jumping into an agreement.
Lack of property demand. Sometimes sponsors can make poor business decisions aiming to maximise profitability. For instance, they may push for larger numbers of rental spaces available and end up struggling to find renters.
What is real estate crowdfunding?
Real estate crowdfunding is a method to collect funds from multiple individual investors to develop or restore a property. The process happens on specialised real estate crowdfunding websites that connect investors with the companies developing a project. This financing alternative has disrupted the old concept of real estate being available to high-net individuals only. Today anyone can invest starting from as little as £100.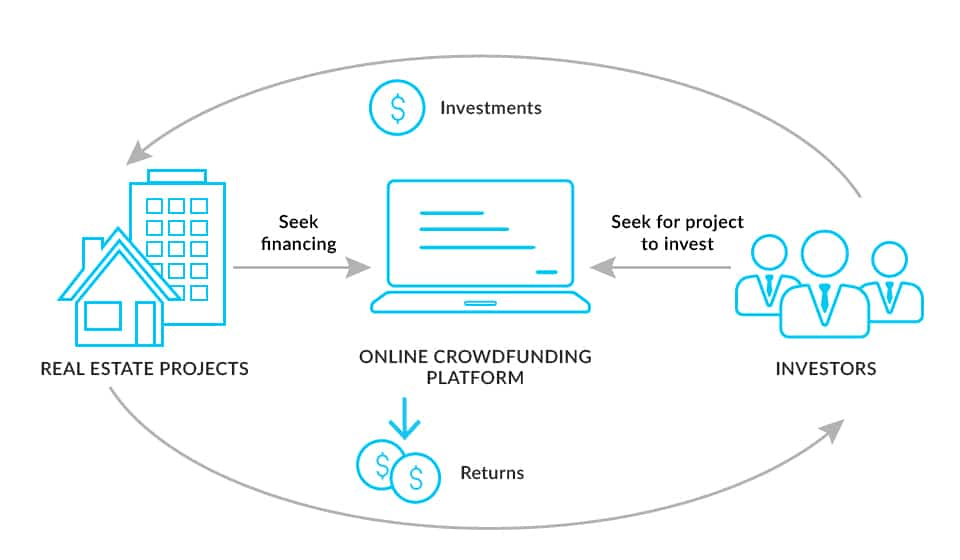 There is a wide variety of real estate crowdfunding projects: social housing, renovations, restoration of culturally significant buildings, infrastructure development, etc. On top of this list, you can also invest in blocks of apartment restoration and maintenance to rent it out and receive regular returns from the tenants' lease. This is something called crowdfunding rental properties.
Crowdsourcing real estate development is a viable business step since, on the other side of the bargain, it's a beneficial opportunity for investors, too. For beginners, it can be a perfect starting point thanks to its low risk; for experienced investors, it's a chance to diversify their portfolio. In both cases, property investments can become a source of consistent passive income.
For instance, in the UK another contributing factor that stimulated investors' interest towards the real estate niche was the introduction of IFISA (Innovative Finance Individual Savings Account) that allows investing up to £20,000.00 annually and receiving tax-free returns. This year has seen a major influx of lenders making the most of their tax-free allowances. Since they can leverage their IFISAs by investing in real estate, too, the UK property crowdfunding providers, in turn, benefit from it.
Real estate crowdfunding pros
All in all, the real estate crowdfunding niche offers the following pros:
Can provide a stable passive income, especially with crowdfunding rental properties.
Allows benefiting from real estate investments without the hassle of managing the property.
Provides access with previously unattainable investment loans, like large-scale property projects.
Real estate crowdfunding cons
At the same time, there are the following cons to be aware of:
Illiquidity. Should you need to sell or cash your investment, it's nearly impossible or may take a significant period.
Risk of losing the money. We've mentioned before that compared to other investment niches, the crowdfunded property is considered to be more reliable. Still, it doesn't mean that it's completely safe. If the property's business plan doesn't take off, you risk losing the capital.
Top 3 real estate crowdfunding platforms
Reinvest24
Reinvest24 is an established Estonian lending platform allowing investors to invest in real estate development projects and rental projects.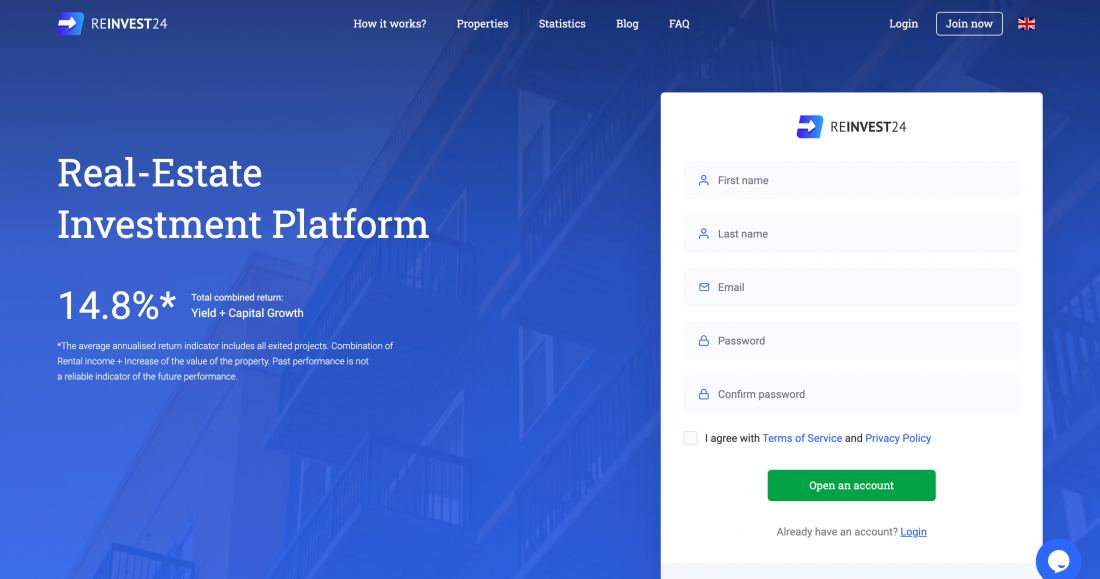 Reinvest24 offers one of the highest returns in the crowdlending field. We have recently spoken to Reinvest24 CEO to find out more about their experience in the field.
ROCKETS Home
Austria-based ROCKETS Home strives to make the real estate crowdfunding sector accessible to everyone interested. Anyone of legal age residing in Austria or Germany can invest on the platform starting with as little as €250.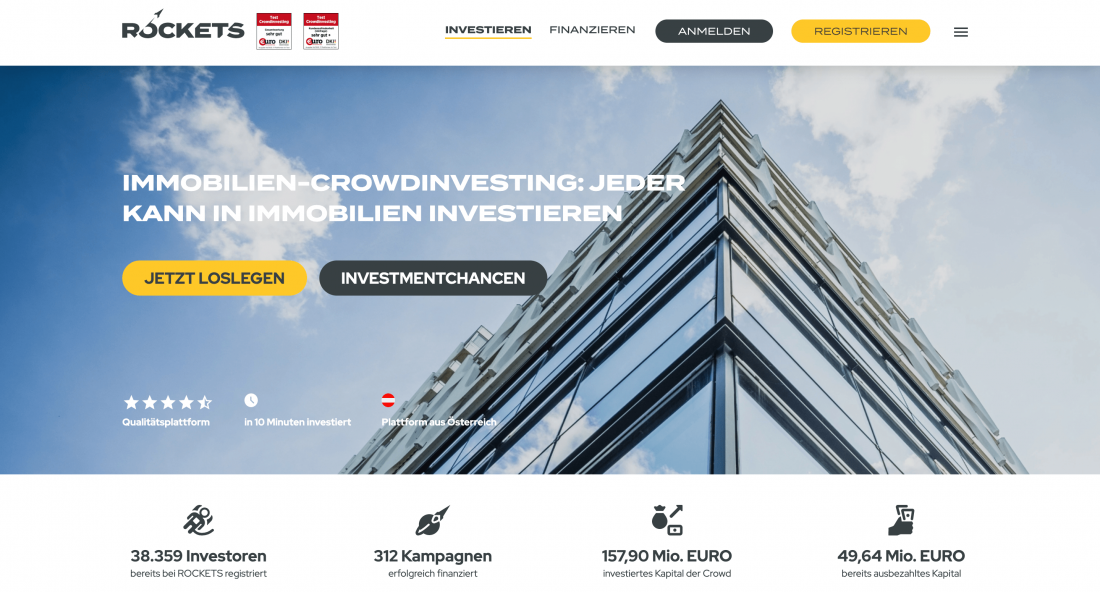 Before making the property available for investing, it is evaluated by an independent appraiser.
CapitalRise
Headquartered in the UK, CapitalRise is an award-winning property crowdfunding platforms offering prime property across the UK. By excluding the middlemen, CapitalRise strives to make it accessible to a larger investors' pool. Chelsea, Knightsbridge, Eaton Square – are a few locations where CapitalRise operates.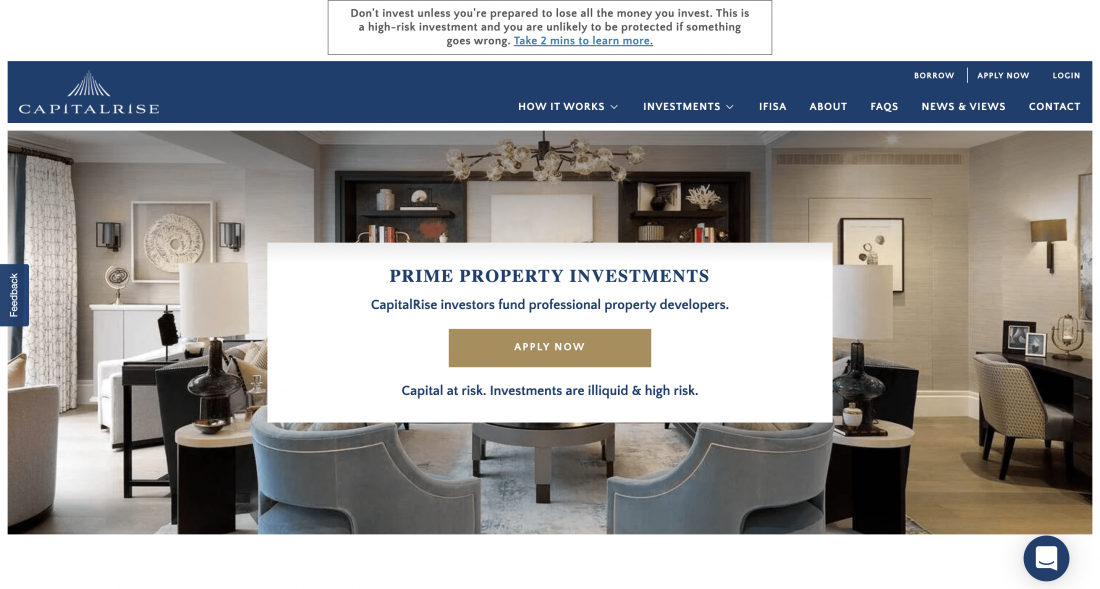 By leveraging your IFISA you can yield 8-12% return per year by investing in real estate loans previously available only to high-net individuals.

Key differences between real estate syndication and crowdfunding
As you may see, these two models share a pretty similar concept and in some aspects, operate through similar mechanisms. Still, there are some major differences between them, in the opportunities and benefits they offer, that are vital to recognise.
Term and duration.
On average, a real estate syndicate lasts at least five years. In some cases, a syndicate agreement may carry on up till ten years.
Property crowdfunding, on the contrary, usually runs on far more temporary timelines.
Equity.
Syndication partnerships imply equities only, while crowdfunding can offer both equities and loans.
Investment scale.
Some people find this part a bit confusing, so let's figure that out.
Real estate syndications and crowdfunding ventures entail the same concept: many investors join their capital to buy a property that they are unlikely to afford on their own.
Still, experience shows that real estate syndicates aim for massive investments: entire residential areas, large commercial centres, agricultural real estate, etc.
Through crowdfunding, people fund properties that serve their communities or their personal ambitions. People invest together in a restaurant, a small apartment block or a duplex, a library, etc. These initiatives aren't cheap but still require smaller investment capital.
Participants.
The term "crowdfunding" itself says that the number of people willing to participate is, well, limitless. It's perfectly normal to have some investors contribute $200 while others can contribute $20,000.00.
With real estate syndications, things are different. It includes a few people investing an equal amount of money.
Final thoughts
Crowdfunding and syndication have different capital and experience requirements for investor. So, choosing the right alternative for you depends on your budget, goals, and overall investment experience.
Both these strategies can potentially become a source of passive income and help diversify your portfolio. Discover more real estate crowdinvesting providers to explore what the investment world has to offer today.