Empowering retail investors amid economic uncertainty: interview with Monika Lencickaite, CMO at Profitus
Profitus is a major Lithuanian crowdfunding platform that connects investors with borrowers seeking financing for their real estate development projects. The platform brings together people who want to invest in real estate and people, businesses looking for money to implement their real estate idea.
It's safe to say that Profitus has grown rapidly into one of the leaders in the Lithuanian crowdfunding market specialising in property-backed investments. In an insightful conversation with Monika Lencickaite, CMO at Profitus, we've discussed the crowdfunding climate in Lithuania, the importance of educating investors, and why they focus more on retail investors rather than institutional.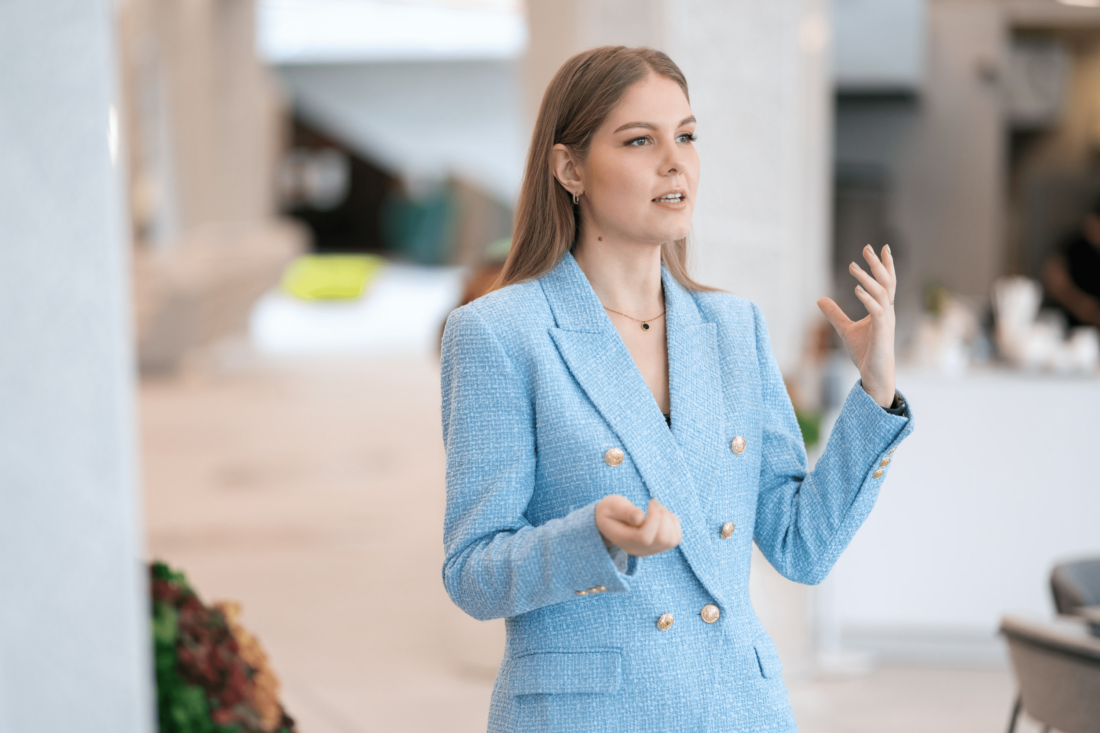 We thank Monika and Profitus team for sharing their experience and thoughts on the industry, and eagerly invite you to explore the interview below.
What's the story behind Profitus?
Profitus was started as a completely new venture in 2017 by Viktorija Cijunskyte and Mindaugas Vanagas.
The idea of Profitus developed slowly. When working with real estate buyers and sellers and developing real estate projects, more and more people asked about the possibility of investing their money in real estate.
To keep money in banks is not a solution because nowadays banks do not pay interest, and investment in shares, with no specific knowledge of this area, is very risky.
On the other hand, real estate is a tangible thing that protects your money from inflation and allows generating additional income. However, one requires a substantial initial contribution to buy an apartment or commercial premises, rent them, and ultimately, get passive income.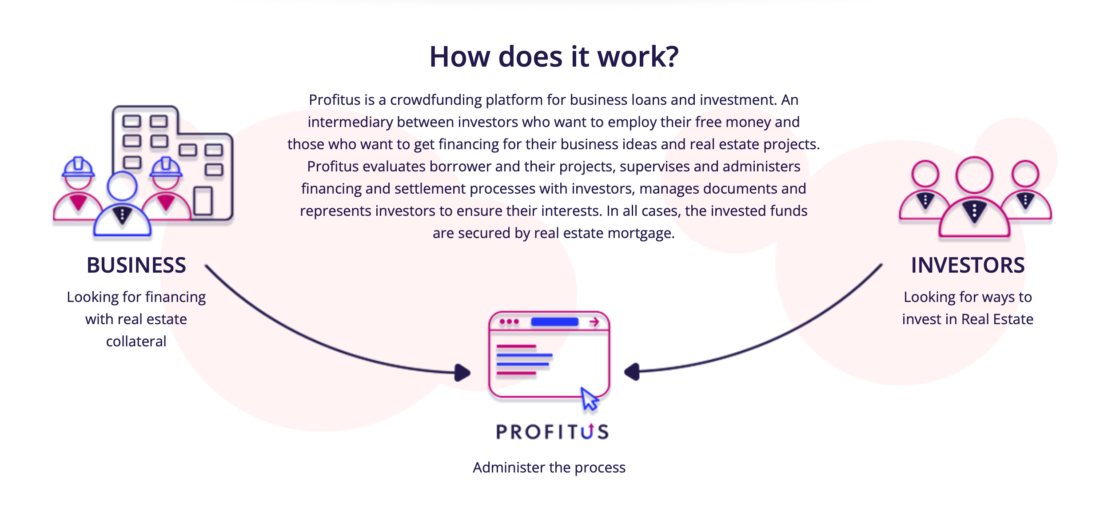 This is how the idea of Profitus was born: to unite people and give them the opportunity to invest small amounts of money in real estate, become partners in real estate projects, or implement their own real estate projects.
How do you choose a loan originator?
We carefully select loan originators who have a track record of successful real estate development projects and a solid reputation in the market. We also perform thorough due diligence and risk assessments before adding them to our platform.
More about the projects vetting process:
In the first stage, the application is evaluated by the project manager, who, after asking questions and collecting the necessary documents for the inspection, decides whether the project is suitable and has the potential for financing.
The documents include financial statements, business plans, and company composition data, along with an evaluation of the mortgaged property from a third party.
Then the project manager forms a financing protocol.
The protocol data is collected from local registers: the company's credit history, property registration, and existing property restrictions and pledges. The completed report is submitted to the credit committee for evaluation.
The credit committee's business, real estate, and financial analysts evaluate all the project information using a unique risk assessment algorithm that determines the risk rating and offers a financing price.
In addition, real estate analysts perform a cross-check to determine the property's value using a comparative method with similar transactions that took place on the market and previous transactions for the purchase and sale of the mortgaged property.
The credit committee makes the decision presenting the terms of the proposal.
What loan types do you work with?
We currently focus on financing real estate development projects, including residential and commercial properties.
We also offer investors re-development business loans, bridge loans, mezzanine loans, and RE bonds.
What's the current crowd-investing market in Lithuania?
The crowdfunding market in Lithuania is relatively new but rapidly growing. More and more investors are discovering crowdfunding, but it is still necessary to constantly educate investors about this investment method. That is what we do, not only by organizing educational events but also by going to schools to talk with students about investment opportunities.
Crowd-investing offers investors an alternative way to invest in real estate development projects and provides borrowers with access to financing from a wider pool of investors.
Working with retail investors is a challenge for many platforms. This requires a lot of work and effort, so a significant number of platforms lean towards institutional money. We still adhere to the main goal of crowdfunding: to bring together people who have money and those who have ideas on how to employ it effectively.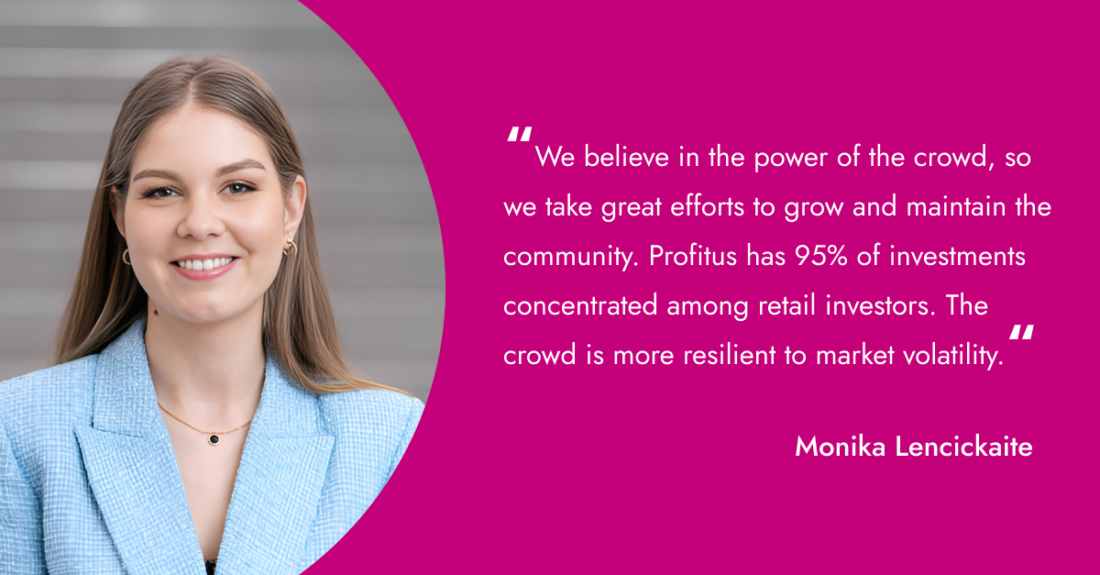 Meanwhile, individual retail investors continued to finance. That's why, although the maintenance of the retail database requires more effort, this operating principle ensures our resistance to market turbulence.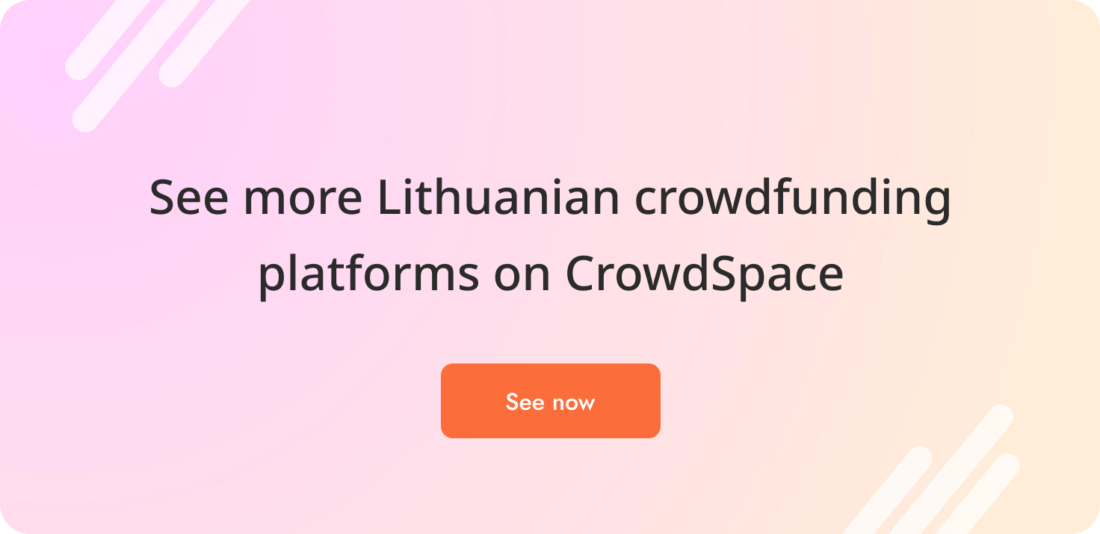 Has Profitus experienced any crisis since its foundation in 2017?
You are probably expecting the answer to be a pandemic or political conflict. However, during difficult periods, our platform not only remained stable but also grew.
We pay great attention to the education and communication with our investors, so with us, they feel assured even in difficult periods.
The very beginning was more difficult because it was a completely new field in Lithuania.
To introduce a new financial tool for beginners, small investors, and businesses, we can't do without education. Profitus alone has organized more than 150 live and virtual educational events in this field over the past 5 years. This is probably why we have become the most famous and leading crowdfunding platform in Lithuania.
Are your projects solely Lithuania-based?
Currently, the majority of our projects are based in Lithuania, but we also have a few projects in Latvia and Spain, and we are open to expanding to other countries in the future.
What's your business model?
Our business model is based on generating revenue through fees charged to loan originators. So, Profitus earns money from real estate developers who raise money on the platform for their projects and pay a fee for it.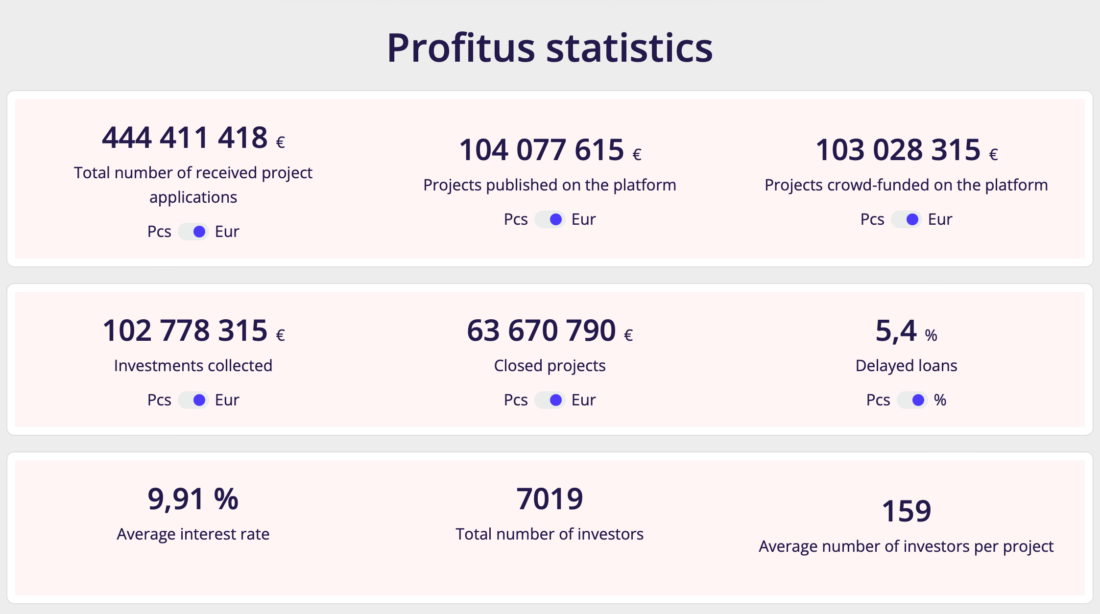 These fees include administration fees, fees from signing mortgage contracts, etc. We estimate our profitability based on the volume of loans originated through our platform and our ability to manage risk effectively.
How's your experience with the ECSP licensing?
We believe that regulation is very important. The market is still relatively new, so the reputation of each market player directly affects the entire market.
Our approach to this business is sustainable, so a regulated and stable crowdfunding market is our priority. We have submitted all the necessary documents and are ready to receive the license by the middle of this year. We are very happy that the regulation will finally be unified; it will bring us great opportunities for expansion into foreign markets.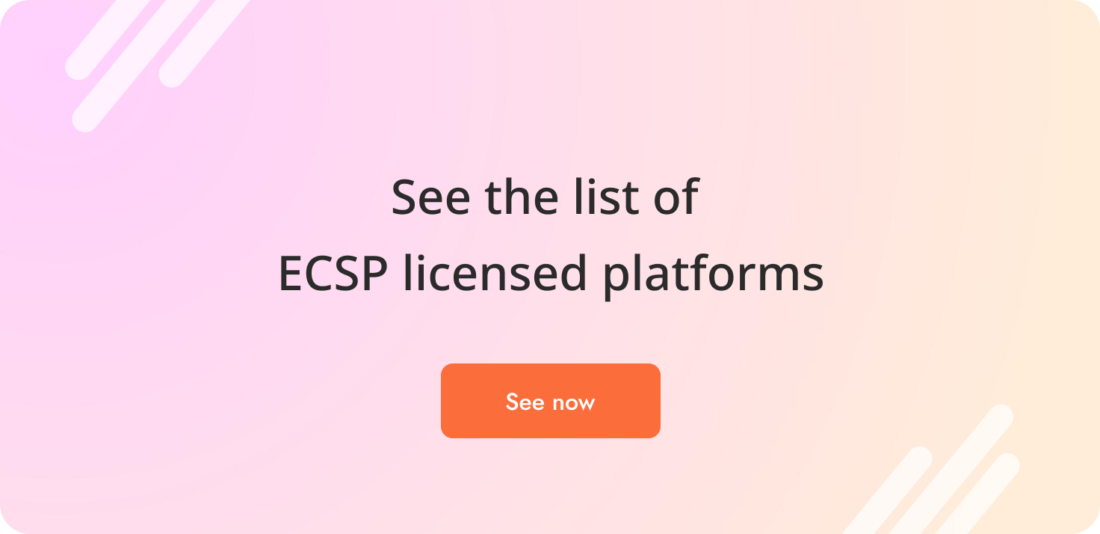 What's coming up next for Profitus?
With the Profitus team, we have a lot of plans for this year, but the most important for investors could be the following:
client-centric product development: we'll be launching a new platform, more convenient to track your investments, see more detailed statistics, and enjoy many other functionalities. Sure thing, a more attractive design is also coming soon.
sustainable geographic growth: after becoming the market leader in Lithuania, we plan to expand to other markets as well. We already have several projects in Spain and Latvia and are looking forward to new markets to offer more diversification opportunities.
adaptive self-managing team: we have achieved a lot thanks to a strong team of professionals, and to grow even faster, we are constantly working on our competencies.
How do you see the potential for the industry?
We see great potential for crowdfunding and other alternative investment methods to grow across Europe.
Alternative financing is one of the strongest competitors of traditional institutions (such as banks), which encourages friendly competition. As a result, all traditional institutions are looking for ways to provide more flexible and customer-oriented solutions not to lose ground to crowdfunding platforms.
We monitor the market and see that more and more investors and businesses discover crowdfunding and investment opportunities and, after trying this method, continue to invest here, so we believe that the future of this industry is bright.