Real estate crowdfunding: pros and cons to consider
Real estate crowdfunding is one of the easiest ways to tap into the real estate market. Until recently, real estate investments were available to accredited and institutional investors only because the entry barriers were very high. One of the alternatives was to join a syndicate where a group of investors pool their financial resources to access larger projects.
Another option was to purchase a share in a real estate investment trust (REIT) and receive steady returns from the rent that REIT receives from the tenants. REITs normally work with specific property types, for example, commercial or residential property.
Property crowdfunding has eliminated the high entry barriers typical for syndicates and the limitations characteristic of REIT. In this piece, we'll review this phenomenon and dive into the pros and cons this investment alternatives entails.
What is property crowdfunding?
Real estate crowdfunding investment is a relatively new option for investing in real estate property. It implies collecting funds from multiple investors to develop or upgrade different property types.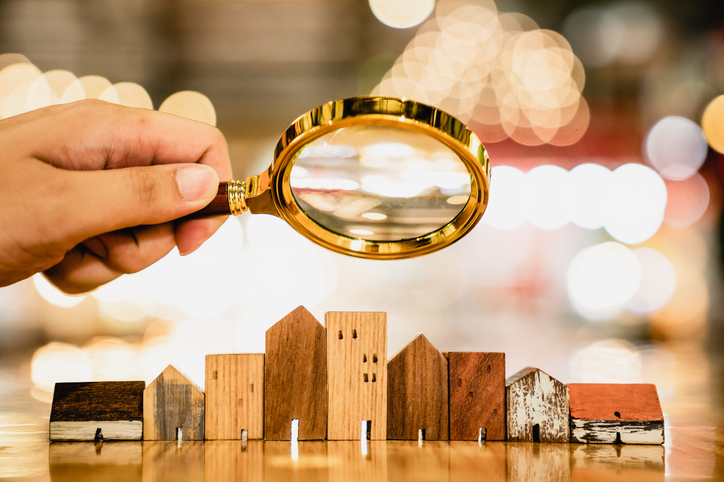 Its main difference from syndicates is the amount invested. In syndicates, a few people invest equal amounts of money, while in crowdfunding, the number of investors and their investment amount can vary a lot. As to the property scale, syndicates focus on massive investments such as residential areas, commercial centres, and similar, while crowdfunding may target smaller projects.
Unlike REITs, this option allows investors to select which projects they want to invest in and they are free to pick various property types. Property crowdfunding also lowers entry barriers. Even though platforms normally set quite high minimum investment limits, they are still lower than those in traditional real estate investing forms.
Like any investment type, property crowdfunding has its benefits and drawbacks.
Real estate crowdfunding pros
Real estate crowdfunding offers unprecedented opportunities to investors. But they come with risks, too. So, consider both if you want to try investing in property via a crowdinvesting platform. Among all the benefits of real estate crowdfunding, the following are the most notable.
Portfolio diversification
Real estate crowdfunding allows investors to minimize risks by diversifying their investment portfolios. Instead of investing the entire sum of, say, $200,000 into a single project, an investor can spread it across, for example, 5 projects and invest $40,000 in each one. If one project fails, the investor loses $40,000 instead of the entire sum, which would be the case if the total $200,000 sum went into a single project.
Opportunity to generate passive income
Investing in real estate allows investors to generate a flow of passive income. In this case, you don't need property construction or management expertise and actively participate in these processes.
You give a part of your funds to a developer or operator who does all the work. You are only responsible for collecting a share of the revenue generated by the property.
Lower entry barrier
Traditional forms of investing in real estate were mostly available for accredited and institutional investors, while the entry barrier was too high for retail investors.
Participating in real estate crowdfunding still requires money, but the entry barrier is much lower than in traditional investment forms.
Vetted investment options
Real estate crowdfunding platforms typically perform their own due diligence before allowing investors to participate in an offering. While it is recommended to do your due diligence before you invest in property crowdfunding, projects available on a platform have already been checked by the platform's team.
Real estate crowdfunding cons
Real estate crowdfunding has some cons you need to be aware of and consider if you want to try this investment option.
Poor liquidity
Real estate is an illiquid investment. Your investment share or loan can't be sold quickly.
Lack of control
If you invest in real estate through a crowdfunding platform, you rely on a third party to develop the property. If you want to manage the property independently, a traditional investment form is more suitable for you.
Best real estate crowdfunding websites
Property Partner (London House Exchange)
Property Partner, now rebranded as London House exchange, is a fractional property investment platform founded in 2014 in the UK.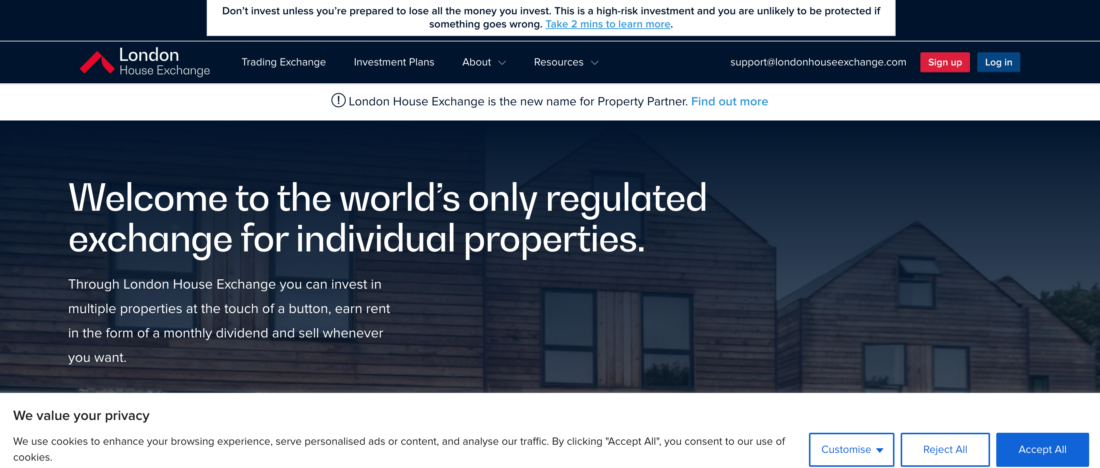 The platform allows users to participate in lucrative real estate projects with just £1,000. The provider works with residential real estate only. It also covers development loans, but this option is available to accredited investors only.
Reinvest24
Reinvest24 is an Estonia-based P2P lending platform launched in 2018. Reinvest24 enables investors to purchase residential and commercial property shares in Estonia, Moldova, Latvia, Spain, and Germany.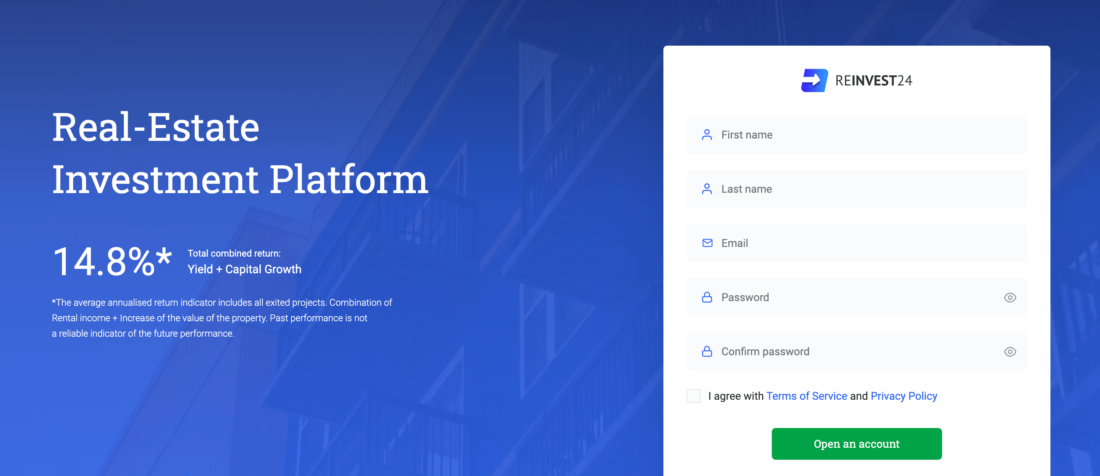 The minimum investment is EUR 100 on the primary market.
Rendity
Rendity was launched in 2015 in Austria. Rendity allows you to invest in German and Austrian residential and commercial property with as little as EUR 500.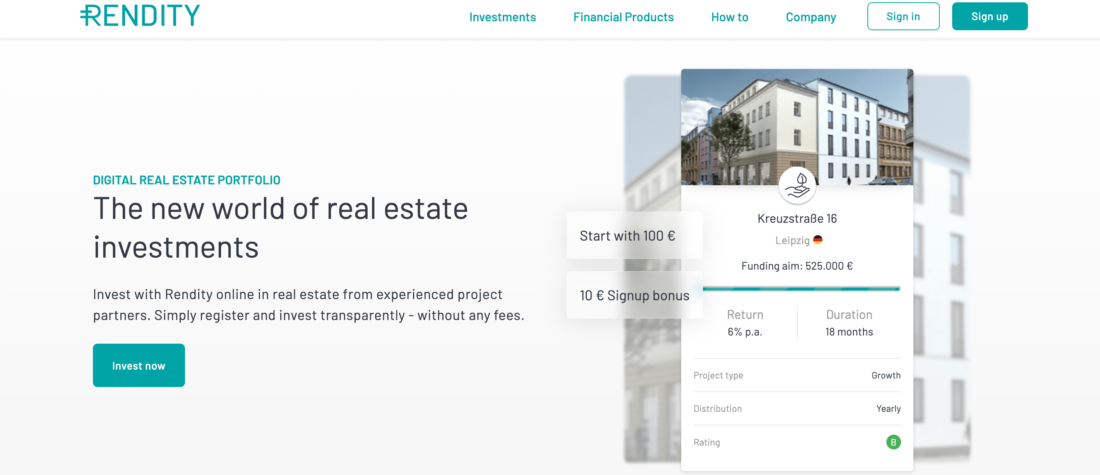 Deposits in the platform's trust accounts are insured for up to EUR 100,000, providing additional safety to the investors' funds.
Bottom line
Is real estate crowdfunding a good investment? It depends on your aim and resources.
Real estate crowdfunding can be a great option to diversify your investment portfolio without spending a large amount of money. Another benefit of this investment type is the absence of the burden of owning or managing property.
But it comes with its risks, just like any other investment. Be sure to investigate them before investing in real estate crowdfunding platforms.