P2P lending for student loans: how does it work?
They say an investment in education gives the best returns in the long run: the knowledge and skills you learn stay with you forever.
But it's no secret that to make that investment you often have to take out a loan first. Luckily, the times when education was available only to the privileged and wealthy are long gone, and today there are some opportunities to get the financing for the desired degree at the very educational establishment that fits best your needs.
At the same time, pursuing higher education often requires some serious financing, especially if you are considering a top university or college.
Naturally, there are grants and scholarships, but they offer limited opportunities and can't possibly secure funding for all of the applicants interested.
The next option that comes to mind is obtaining a bank loan; yet, it doesn't guarantee your loan request will be approved. That's why peer-to-peer lending, often referred to as P2P, has recently gained popularity among the students-to-be as one of the working financing sources. 
How does P2P work for student loans? 
P2P lending is an alternative financing method that is common for many situations where traditional banking fails or simply has less attractive terms. Tuition financing is no exception.
On the whole, getting a loan through P2P is a more streamlined process: quicker loan approval time, often more attractive interest rates, and more flexible conditions. On top of that, the entire process is facilitated by a P2P lending platform accessible online anytime and anywhere. Here are the basic steps to apply for a student loan through a P2P website.
In the first place, you'll have to fill out the information about your credit history to be eligible for the funding. You may also need to provide some background info on how you are planning to use the loan money: your educational aspirations, the degree you are willing to receive, the course duration and the repayment plan you are comfortable with.
These details serve two purposes: firstly, to check your reliability and creditworthiness. Secondly, the P2P lending website will use these criteria to set the terms and the interest rate to match you with a suitable lender. In many cases, it's not one person but a group of individuals.
Once you accept and sign up for the deal, the P2P lending platform will take care of the transaction to have the money transferred to your account, per the terms you've previously agreed to.
As to the monthly instalments, you may need to pay them manually or have the P2P website charge them automatically on a monthly basis. This is something called an auto-invest" feature.
Regardless of the fact that you are not dealing with a governmental establishment or a bank, it's still important to keep your credit history nice and clean. Some P2P websites may foresee penalties should a delay happen. Similarly, if you repay on time or ahead of the payment schedule, you may save some money on the interest. All these aspects vary depending on the platform, so we can't stress enough how important it is to study them beforehand.
P2P student loan pros 
It's safe to say that the P2P market, in general, is on the rise. It has proven to be efficient for both parties involved: investors, on one side, make steady passive income, while borrowers receive a convenient financing alternative helping them solve a wide range of personal and business problems. Speaking of P2P lending for student loans in particular, here are the main benefits the future alumni can enjoy:
It all comes down to lower interest rates. They will be definitely much lower since there is no need to cover overhead costs that any other corporate entity will need to include. 
Your story can play its role in your favour. On some P2P platforms, lenders get to personally select the loan they'll invest into, so don't neglect describing your educational ambitions. Perhaps, your career goals may feel relatable or familiar to a lender, which increases the chances of receiving the necessary funding. It creates a sense of a personal relationship between the borrower and lender, where the letter feels that he is doing a good thing by helping another person. After all, the social impact is not the last factor for the investor during the decision-making stage. 
Using a P2P lending platform may contribute to your financial education. Almost every P2P website has a blog sharing the latest news on the area, experts and industry leaders' insights, and valuable tips.
P2P student loans are easier to get. Compared to traditional banking, the entire application process through P2P involves less hassle: it takes place online, the loan approval or denial can be granted within a short period, – all this makes P2P more accessible.
P2P student loan cons
Unlike other existing student loan types, for instance, federal student loans in the US, P2P carries no additional benefits or protection measures. There is no option to postpone the payment deadline or apply for student loan forgiveness. As the name suggests, it's the right granted to the borrower releasing him from the obligation to repay his federal student loan. It's available for limited loan types that involve training for professions in public service, military or educational domains. 
The latest practice shows that the majority of P2P lending loans are mostly short-term, obliging the borrower to repay the funds within one to three years. Even if a student is getting his secondary education, sometimes this timeline is too tight. Imagine that within this period, a person would need to acquire new skills and find a profitable job to build a steady source of income out of it. For many professions, three years barely cover half of the curriculum. If that's the case, we recommend looking up platforms that provide the option to start repayment after graduation. Especially if you are aiming for a full-time program, be sure to check them out.
P2P platforms for student loans 
Now that we have covered the basics, it's time to look at some of the most well-known P2P platforms working with student loans.
Splendit
Splendit is Switzerland's first P2P lending platform specialising in student loans. It allows students to set the loan terms that include the loan duration, the interest rate they are comfortable with, and the repayment date, usually after graduation. Most loans presented on the platform are MBA, which is not surprising because of its high costs.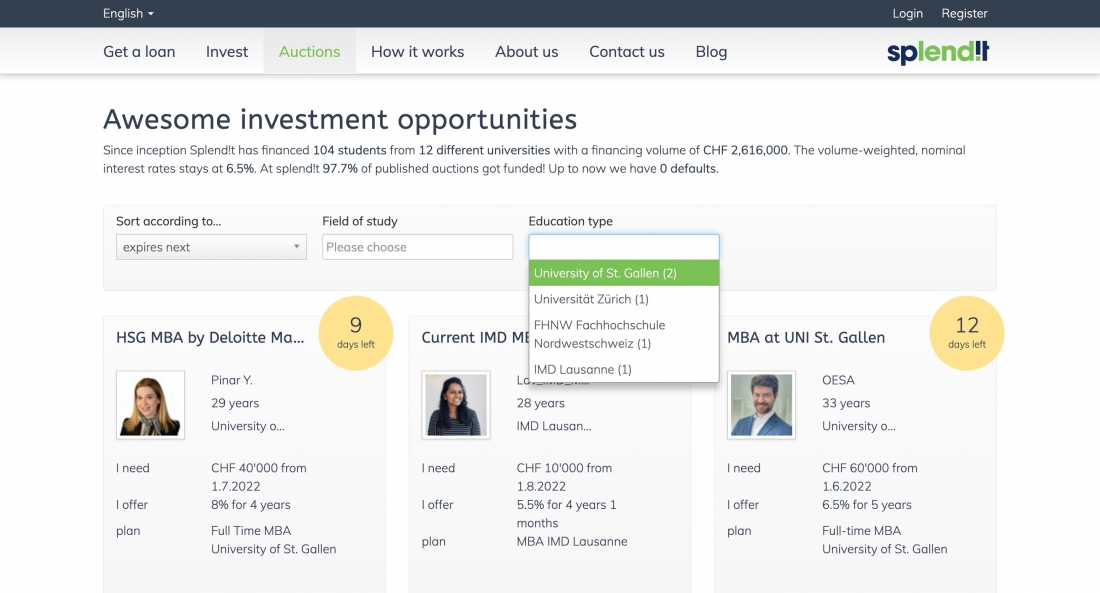 For investors, all these details mean that the borrowers applying there are making well-informed decisions regarding their educational ambitions and have a high chance of repaying the debt under the agreed terms. Splendit statistics confirm this fact: with more than 15 years on the market, there have been zero defaults.
The investor's portal looks very intuitive and handy to use: you get to choose the desired loan duration, field of study, and education type. Every profile contains pretty comprehensive info: the student's background, including the copies of the previous education certificates attached, the desired course descriptions and the payment plan outlined.
Lendwise
Lendwise is a UK-based P2P student lending platform connecting postgraduate students aiming for MBA, Master or PhD degrees, with investors. Anyone with a UK bank account can become a lender or a borrower at LendWise. It's regulated by FCA, the Financial Conduct Authority but it doesn't fall under the Financial Services Compensation Scheme.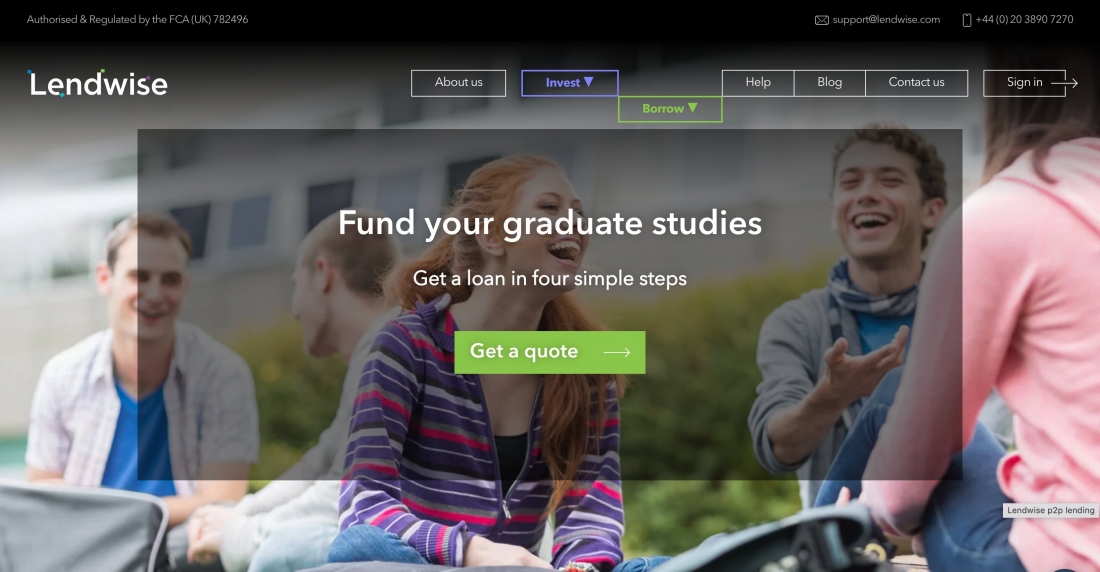 Transparent fee structure, risk evaluation mechanisms for every loan, auto-invest option – are among the P2P platform's key features. Lendwise claim that you can earn up to 9% tax-free return through your IFISA, Innovative Finance Individual Savings Account. In fact, you can select a Lendwise ISA account or a classic account right from the start when registering at the platform. 
Lendwise have also developed an auto lend robot that helps investors diversify their portfolio.
Final word 
P2P student lending is beneficial for both investors looking for stable returns as well as the students searching for reasonable loan terms to afford their education.
As the tuition costs continue to rise, more students turn to alternative financing methods to pay for their degrees under more attractive terms. 
If you think a P2P student loan is a viable option for you, we invite you to explore and discover more P2P lending platforms to find just the right resource to achieve your educational and career goals.