Cross-border investing on a secured P2P lending marketplace: interview with Endrik Eller, CEO at Lendermarket
Meet Lendermarket, a P2P investment marketplace from Estonia created in 2019 with Creditstar, an established international lending group, as a core loan originator. The platform offers mainly two loan types, both of which come with buyback guarantees:
consumer loans;
real-estate business loans introduced in May 2022.
Since its launch, Lendermarket has added new loan originators and has applied for EU regulations. We've had a great opportunity to discuss with the Lendermarket team their experience in the field, their goals and their views on the industry in general.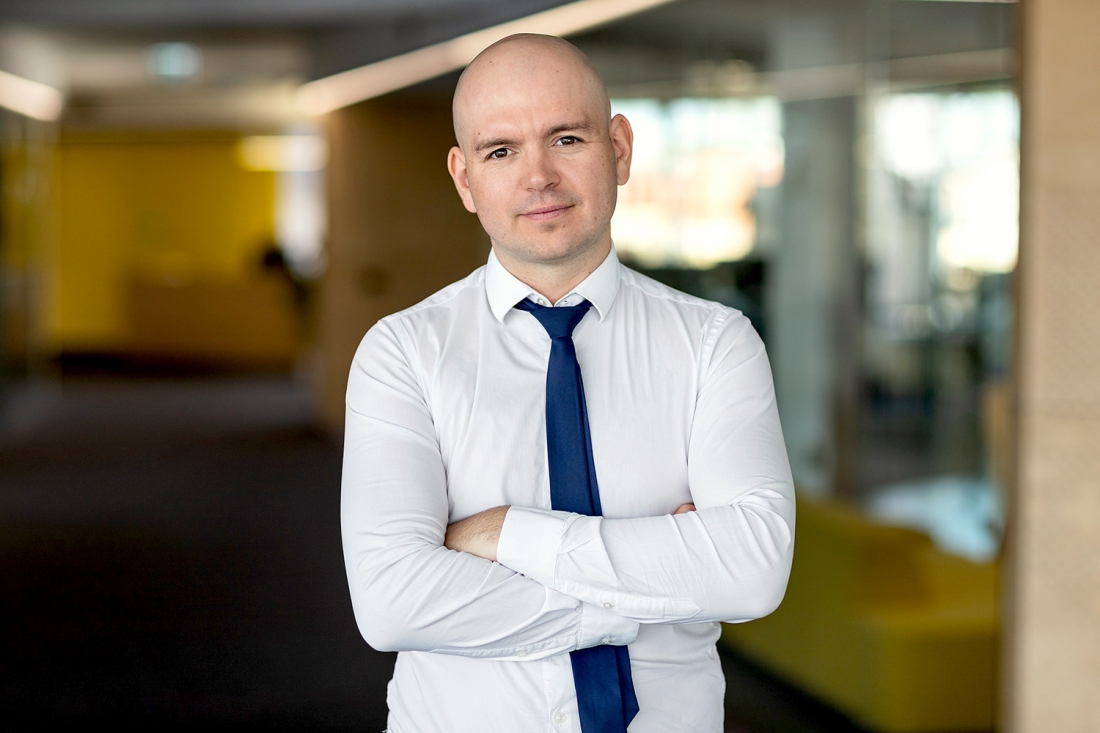 What is the story behind Lendermarket? How was it founded?
Lendermarket is a by-product of Creditstar Group – one of the largest and most reputable consumer finance companies in Eastern Europe.
It all started with the idea that investing should be easier and more rewarding for investors, regardless of location or available capital. In keeping with the near-endless possibilities that the digital world offers, the team behind the platform brought to life the idea of a simple borderless P2P marketplace.
The Lendermarket platform is not just another asset management channel but a platform that connects investors with trustworthy borrowers in the new age of digital banking in Europe. We provide fair returns and a risk-controlled investment environment.
What makes Lendermarket stand out among other P2P lending platforms?
We believe financing lending companies as a multi-lender platform is the most attractive model for investors in the long run.
We are enabling diversification inside the platform and gaining access to loan originators that otherwise wouldn't be able to get listed.
Not to mention the inherent buyback guarantee, simple and quick signup process, and an auto-invest feature that enables the entire process to become passive.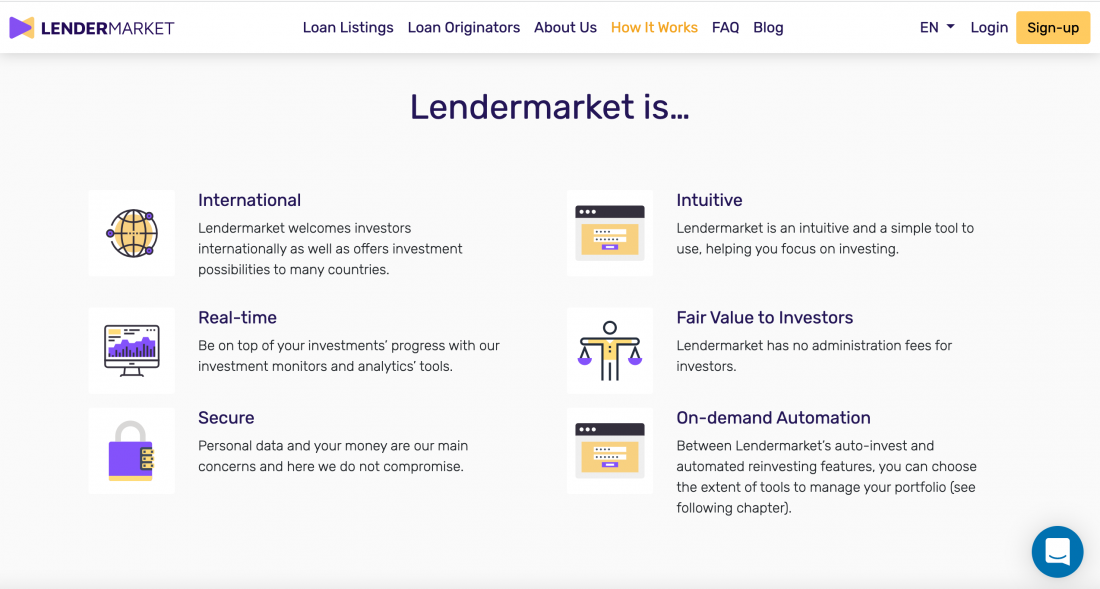 Could you elaborate more on the investment types you offer at Lendermarket?
With Lendermarket, you can choose from two types of loans: consumer and real estate-backed business loans provided by our loan originators.
In the past, investors could only invest in Creditstar Group's loans. However, we have recently become a multi-lender platform, meaning that we have and will continue to onboard lenders globally and not only from Creditstar's group.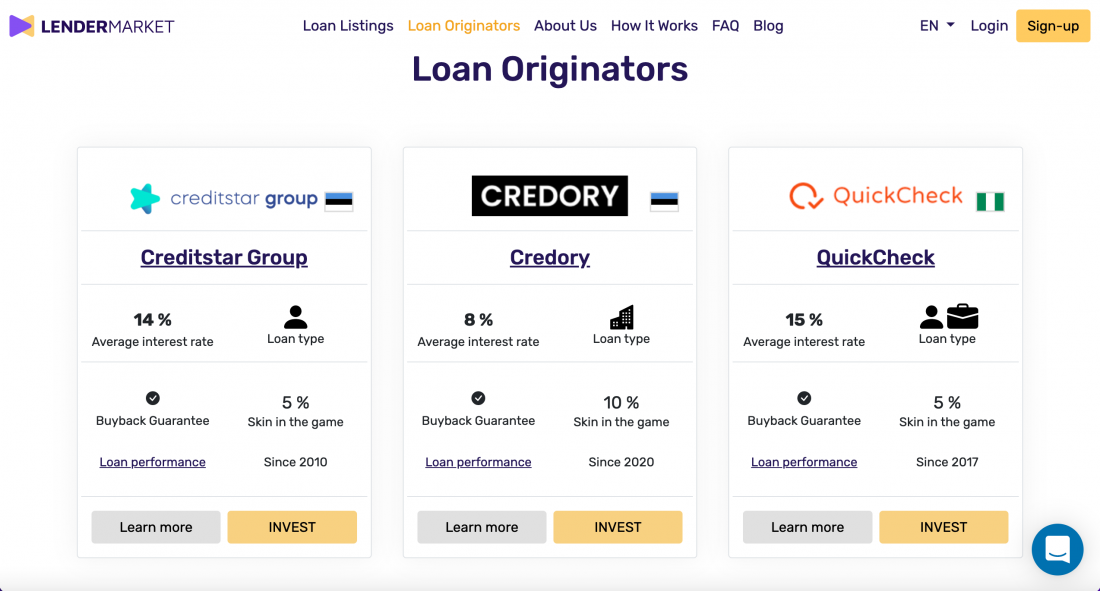 You are registered in Ireland but operate from Estonia. Why did you choose this jurisdiction?
Ireland met the regulative criteria established by the business development team while working through various countries.
Additionally, what was very important to us was an English-speaking environment. As our working language is English within the company, we preferred to establish the business in the country, where we'll be able to interact with the regulator directly in English.
How do you ensure loans' quality and safety, and are they backed by any assets?
Our main priority when partnering with loan originators is to proceed with vast and precise due diligence to confirm it's a good fit for us as a platform and, therefore, for our investors.
The risk decreases when a platform is already established and has a strong portfolio. That's, of course, when we are talking about financing the lenders and if there is a buyback guarantee or proper collateral in place.
Because in that case, you only really need to evaluate the loan originator. Suppose the originator is profitable, has a decent equity position, or has been around for numerous years. In that case, there is no real reason why the investment should be riskier than anywhere else.
Does Lendermarket have any impact from the EU sanctions introduced this year?
Since Lendermarket's operations are based in Ireland, and none of our services, providers or business partners are connected to Russia, EU sanctions did not directly impact our business.
Lendermarket's loans come from seven different countries. What market do you currently see as the most promising?
Since May 2022, Lendermarket has become a multi-lender, meaning that we offer loans from various loan originators. As of now, we offer loans from Creditstar's Group and Credory. Still, we have many other carefully selected partners in our pipeline.
In the next few weeks, our investors will be able to invest in loans from our newest loan originator Quickcheck, a Nigerian Fintech company founded in 2017 with a vision of enabling financial inclusion for micro-entrepreneurs and consumers in Nigeria, bringing a new geographical diversification to our user's portfolios.
Regulated platforms get a competing edge these days. Will Lendermarket become a regulated platform in the near future?
At the moment, we are not yet regulated, but we are working hard to change that. We are in discussions with the FSA in Ireland about obtaining authorization as a crowdfunding service provider under the respective EU Regulation, with a deadline set for November 10, 2022.
For the past ten months, our team has worked hard on putting the licensing project together. We hope to submit our application over the next couple of months, and we are currently waiting for further guidelines about the next steps from the regulator.
The crowdfunding landscape has come long since the first platforms emerged more than ten years ago. As with most financial technologies and offerings, most get regulated eventually. It's a sign of maturity and trust to be authorized by the regulator, and this is precisely what we want to be for our investors.
What advice would you give investors looking to start their journey with Lendermarket?
It's important to establish a plan and be sure of what you want to accomplish with your investment strategy, but most importantly, stick to it. Investments are generally long-term, so don't rush and trust the process. Diversify your portfolio.
As a platform, we are dedicated to bringing the right investment opportunities that include diversification for our investors' interests. And educate yourself to be in the loop about general market trends, you can check out our informative blog.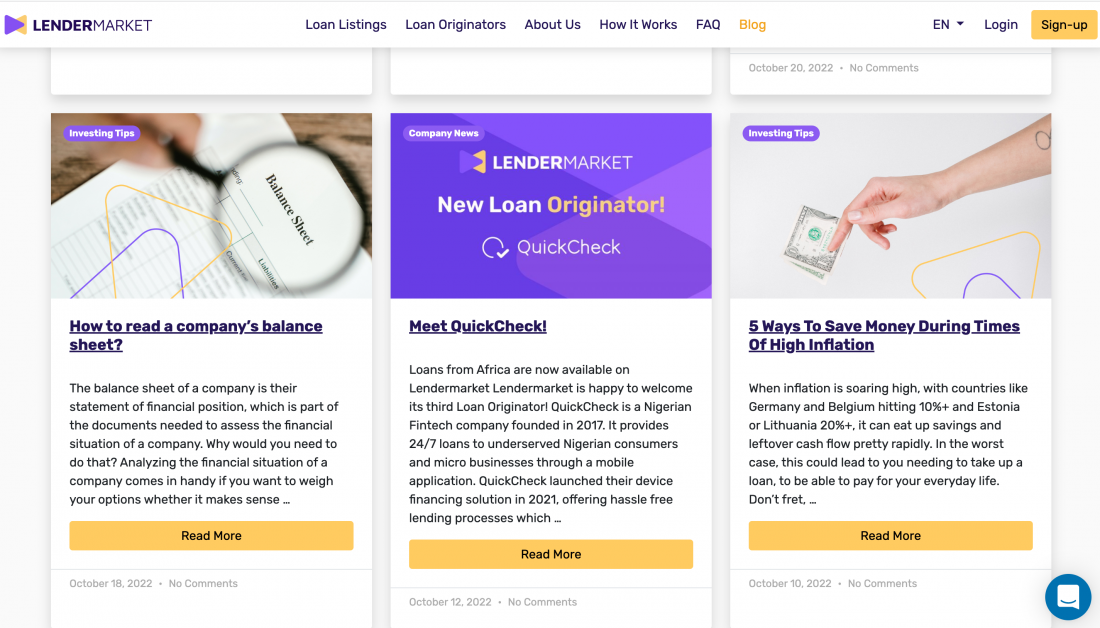 How do you see the future of P2P lending?
The latest topic currently affecting the P2P lending industry is the new regulation, which will definitely impact the investor's perception and behaviour on the market.
So if the reception of the new regulation is positive, there won't be any major capital losses or defaults, and there will be a bright future for P2P investments.
Additionally, now may be the best time to take advantage of the offers from loan originators, as in the hope to stand out, they will have attractive offers for their investors. Once the market is stable again, we will see lower returns.
Browse more P2P lending platforms on CrowdSpace
Wishing Lendermarket team to keep up with their rigorous dynamics and looking forward to featuring more interesting news and developments from Lendermarket.