On the bright side: Martin Baart, CEO at ecoligo, on solar energy projects and impact investing
We, here at CrowdSpace, feel a concept shift is happening around impact investing, and green energy in particular. Apart from the apparent environmental benefits, green energy is becoming an increasingly attractive investment opportunity because of the financial returns it can generate, their quality and stability.
We've been excitedly following ecoligo's activities and are glad to have finally had an opportunity to speak to Martin Baart, CEO at ecoligo.
The platform is a solar-as-a-service provider offering loans in solar panel projects in emerging markets. Ecoligo's team oversees the entire project cycle: from funding to the solar panel installation.
In 2022, the company raised €10 million to drive the clean energy transition and to democratise it. In this conversation with Martin, we've discussed the platform's business model, their mission, and their thoughts on what's next for impact investing.

What's ecoligo in a few words?
ecoligo is a rapidly growing climate- and fintech company with the mission to drive the global energy transition by enabling retail investors to invest their capital into solar PV projects directly.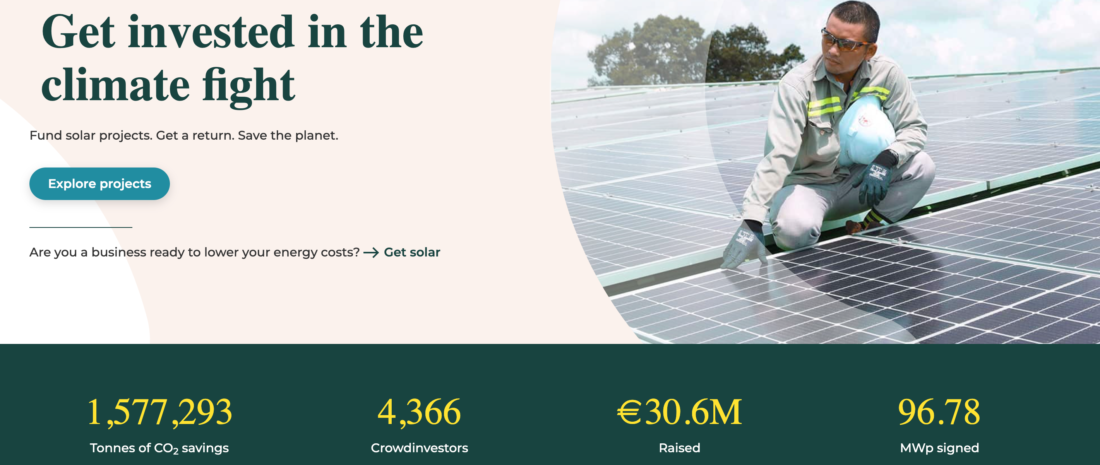 These help companies in emerging markets reduce their CO2 footprint while lowering their energy costs. ecoligo ensures those operations run diligently and profitably so that impact investors not only contribute to fighting climate change but also benefit from attractive returns.
What are your major markets?
ecoligo's business model taps uniquely into emerging markets in the global south.
It addresses the funding gap for C&I solar power projects in these markets, which the local financial industry currently can't fill. Or at least can't fill on financially viable terms. While loans from the bank are possible, the interest rate is too high, and the terms are so restrictive that it would make the project unviable.

Through ecoligo's model, finances are secured from Europe, where the cost of capital is attractive, and is deployed in an emerging market, where the cost of capital is high.
Another reason ecoligo is focused on emerging markets is the potential to make a more significant impact. While plenty of companies offer similar services in Europe, for example, this is the first time anyone is doing this in emerging markets. While this is precisely where we really need to leapfrog to renewables. Otherwise, every new power plant built in these markets will be powered by fossil fuels.
The tariffs for C&I customers in these markets are usually high, too, especially compared to the EU. As a consequence, a business in an emerging market will typically pay two-to-five times more for its energy than a European company. This means that an ecoligo solar project will impact companies commercially to a higher degree in these markets by allowing them to reduce their costs while also generating more jobs locally.
Lastly, these markets tend to have a lot of sunshine. And this affects a high yield of solar energy.
To illustrate, the same installed capacity will deliver around 50% to 100% more energy – depending on the location – than in northern Europe, for example. Simply because it is much sunnier.

Now, this has a tremendous effect on the carbon emissions saved. In fact, you avoid 50% to 100% more emissions for the same investment. This generates impact much faster than in a scenario in which you build a solar system in, let's say, Germany with the same amount of money.
Who can invest on ecoligo?
ecoligo's goal is to make the platform accessible to everyone interested in sustainable investing or diversifying their portfolios in general.
It starts with offering people low investment barriers and the opportunity to invest at €100. That way, investing becomes accessible for everyone, even those beginning with a small capital at their disposal. That being said, ecoligo also caters to seasoned investors spending higher amounts given the attractive interest rates.
Do you see any misconception about green energy investment?
A common misconception is that green investing won't generate returns. This is not true.
Data shows that sustainable companies perform better than their non-sustainable peers. Also, green energy models typically have the crucial advantage of lower cost of generating green energy vs fossil energy, thus having a solid business case.
Another misconception is that subsidies are required to make the green energy business case work. But with their installation costs being lower, as of today, solar or renewable energy systems are the lowest forms of energy generation in most markets without any subsidies.
What's your average project cycle duration?
ecoligo conducts all necessary financial and technical due diligence before securing the required investment funds to put the projects in operation.

It takes, on average, nine months for projects to be in operation after contracts are signed with clients and four to six months from securing the necessary investment funds depending on the project country and project specifics.
What advice would you give to green energy investors to build a solid portfolio?
Diversification, geographical and company-related, remains the key. But this is the advice every solid financial professional will give. Additionally, when investing in green energy projects, it is vital to check the track record of the companies implementing green energy projects.
Investing only in state-of-the-art green energy technologies when it comes to project investments is equally important. You maintain diversification with good return expectations by mixing project and company investments.
What green energy trends do you expect to grow?
The biggest trend in green energy this decade won't be in technology but in financing. Sustainable finance will become one of the megatrends for retail investors.
With rising awareness of the impact of consumer and investment decisions and finance becoming increasingly digitized, we will see the user base of impact investing platforms skyrocketing. It will contribute a seamless impact investing experience.
How do you see the future for your industry?
The green energy and sustainable finance industries are both booming with a bright future.
On the green energy side, a fast-rising number of companies will go green and implement solar energy projects. These initiatives are either driven by the motivation to reduce carbon emissions directly and energy costs or encouraged by their corporate customers (in case of suppliers) to reduce Scope 3 emissions.
On the financing side, retail and institutional investors will massively divest from non-climate-friendly investments and re-allocate this money for a sustainable future.
We thank Martin and ecoligo's team for this insightful conversation and are looking forward to what the coming decade brings for green energy investing.