Democratising access to financial services through technology and advanced security
Innovative financial technologies have revolutionized the way we invest and borrow. As the P2P lending landscape continues to grow, so does the importance of addressing one critical aspect: security.
In this article, interview Roman Katerynchyk, CEO at Lonvest, invites us to explore Lonvest's mission, values, and enhanced security measures. We have also discussed various markets, their potential, and what the alternative finance market expects in the future.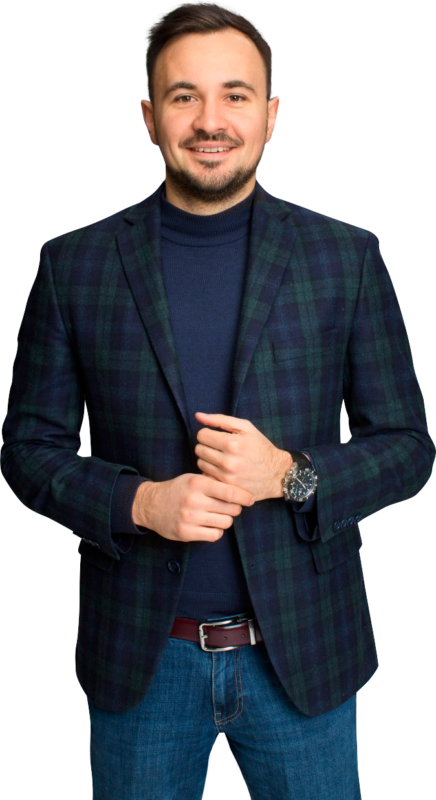 It's been an exciting and informative conversation, we thank Lonvest team for their time and gladly invite our readers to dive in.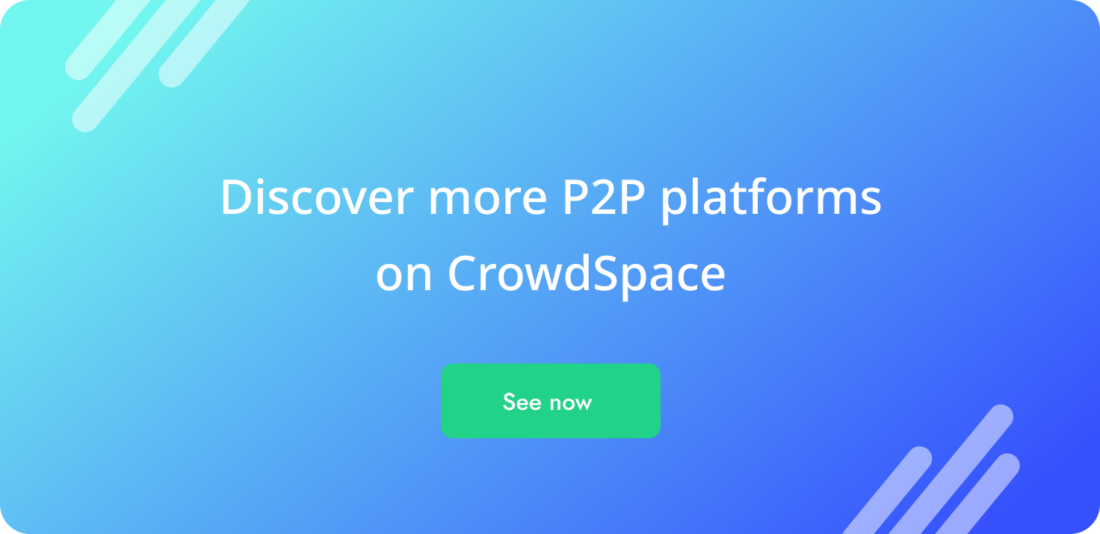 How would you describe Lonvest, in a nutshell?
Lonvest is a P2P investment platform. With us, investors can receive up to 15% interest, depending on the specific country and loan originator. We offer a range of investment opportunities, from short-term loans (30 days) to middle-term investments (3-6 months, a year), all of which come with attractive returns.
We partner with the Space Crew Finance group, which has been in the lending industry since 2015 and has 500 employees and entities in 5 countries.
How did Lonvest history begin?
As I mentioned, Lonvest is a partner of Space Crew Finance group – a group of fintech companies founded in 2016.
It employs over 500 individuals in 5 countries, encompassing various departments such as IT, risk management, finance, automation, and customer support. The group's operations are strategically organised, with a central headquarters driving core competencies, while field teams handle operational challenges.
Driven by our vision to make financial opportunities accessible to people worldwide, we firmly believe in the potential of our products. That's why we have an exciting roadmap, with plans to expand into three new countries in the coming years.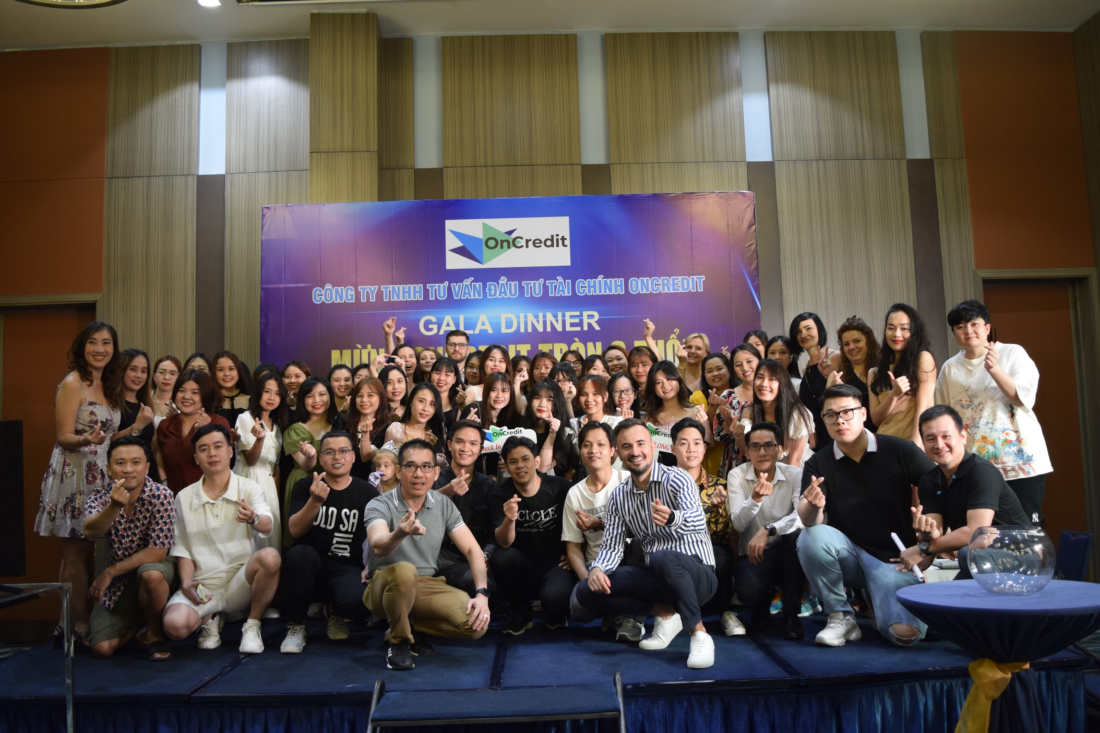 How do you choose a loan originator?
All loan originators on our platform are part of the Space Crew Finance group. We started with three companies – OnCredit Vietnam, which offers 14% annual investment returns, ClickCredit Poland, with 12% annual investment returns and OnCredit Sri Lanka, with 15%.
Have you stopped working with any loan originators lately?
We have been continuously working since the recent launch of our platform. While some companies within Space Crew Finance group are not currently represented on the platform, we are actively exploring opportunities to expand our offerings. Regarding the Ukrainian loan originator Mycredit, currency control restrictions currently limit the withdrawal of money from the country.
However, we consider Ukrainian originators one of our most successful brands. As soon as Ukraine wins the war and the economic situation stabilises, we fully intend to enable investors to participate in loans on our platform.
What loan types do you work with?
At Lonvest, we specialise in direct loans with short-term durations. We offer instalment loans with terms ranging from 30 to 180 days, providing flexibility to meet different financial needs.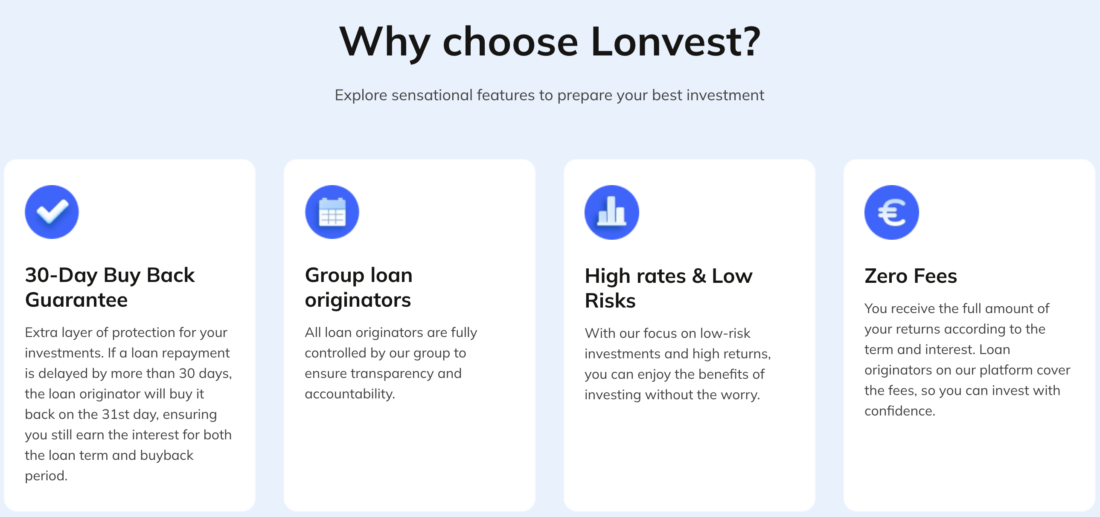 In addition to our existing loan offerings, we are excited to share that our roadmap includes introducing new products shortly. We are actively developing new products, secured explicitly by transport assets, to provide even more options for our investors.
Furthermore, we plan to launch BNPL (Buy Now, Pay Later) products, allowing users to enjoy convenient instalment payment plans. These upcoming products reflect our commitment to continuously expanding our range of loan types, catering to the evolving needs of our investors.
Does the platform offer buy-back guarantees?
Every loan available on Lonvest is secured by a buyback guarantee, meaning that the loan originators are obligated to repurchase the loan if the borrower is delayed with their payments for more than 30 days. This guarantee also includes accrued interest, providing an extra layer of security for investors.
To ensure that our investors' money is well protected, Lonvest evaluates loan originators regularly based on their financial situation, the quality of their loan portfolio, and their internal processes. We take pride in our reputation and strive to ensure that loan originators can fulfil their obligations, regardless of location.
We regularly publish reports highlighting the achievements of our loan originators, providing insights into the current business landscape, and sharing our plans.
How you do you protect your investors?
We take the security of our investors very seriously. We have implemented robust measures to protect investments and provide everyone with peace of mind. Here's how we ensure the safety and security of your funds.
Buyback guarantee. Loan originators must repurchase loans if borrowers are delayed with payments for over 30 days, including accrued interest. This guarantee adds an extra layer of security for investors. We regularly evaluate loan originators based on financial stability, loan portfolio quality, and internal processes to protect our investors' funds.
Group guarantee. We prioritise protecting our investors' investments, even in unlikely scenarios where loan originators face financial difficulties and cannot fulfil their buyback guarantee. That's why we have implemented an additional Group guarantee. Through guarantee agreements with our main partners, Space Crew Finance Group, other companies within the group will step in to cover liabilities in the event of a loan originator's insolvency. This ensures that investors' investments remain safeguarded and reflects our commitment to transparency and maintaining a strong reputation.
Proven expertise. As I mentioned, Lonvest is a partner of the SpaceCrew Finance Group. This holding has been working in the fintech area since 2015 and carries out lending activities in Poland, Ukraine, Vietnam, and Sri Lanka. The Space Crew Finance group currently employs over 500 individuals, encompassing various departments such as IT, risk management, finance, automation, and the call centre.
Profitable loan originators. We collaborate with loan originator businesses that have a demonstrated history of profitability. This ensures that your investments are directed towards ventures with a proven track record of generating returns.
Сutting-edge technology. Our loan originators utilise a borrower scoring system that leverages advanced artificial intelligence technologies. This enables us to assess risks accurately and make informed decisions on loan issuance. By embracing innovative technology, we increase the chances of investing in borrowers who will repay their loans, maximising your returns.
What are the current challenges in P2P, in your opinion?
In my opinion, one of the most significant challenges faced by providers in the peer-to-peer sector is establishing and maintaining trust among investors. P2P lending platforms operate by directly connecting individual investors with borrowers, bypassing traditional financial intermediaries. This direct interaction introduces specific challenges.
Building platform reputation:
establishing and preserving a strong reputation is crucial for P2P providers. Trust forms the foundation of the P2P lending industry, and any negative incidents or defaults can significantly impact investor confidence. Transparency, effective communication, and robust borrower vetting processes are vital to maintain a positive reputation. We view our platform as a strategic project within our group's ecosystem and are committed to building lasting customer relationships.
Regulatory compliance:
we recognize the inevitability of regulation and are actively complying with all regulatory requirements. P2P lending platforms often operate in highly regulated environments. Compliance with financial regulations, anti-money laundering laws, and data privacy requirements complicates operations. Providers must navigate these regulations to ensure legal compliance, protect investors, and maintain a level playing field for all participants.
Expanding offerings:
many platforms today offer limited investment options, resulting in a waiting period for investors. We understand this concern and have a development roadmap in place. Our plan includes opening new brands and expanding to different locations, enabling investors to have a broader range of investment opportunities while ensuring a secure platform.
Addressing low rates:
we are committed to selecting and developing products that allow investors to earn more. By carefully curating offerings and implementing strategies to maximize returns, we aim to provide attractive investment options that help our investors grow their wealth.
In summary, as a P2P provider, we focus on building trust, ensuring regulatory compliance, expanding our offerings, and delivering higher returns for our investors.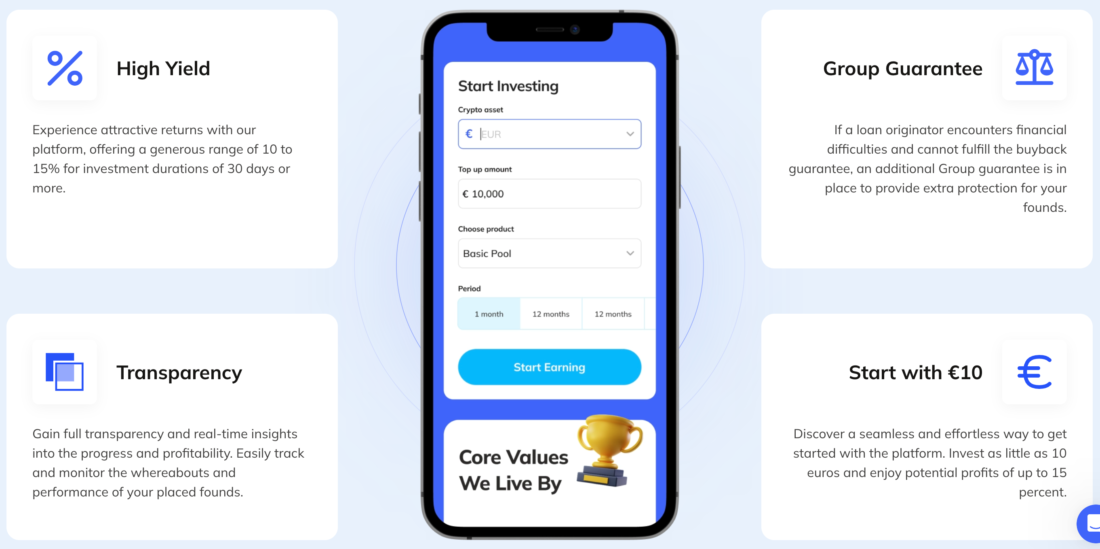 What countries are your projects based in?
We work with Vietnam, Poland and Sri Lanka. All these markets are different.
OnCredit Vietnam: loan originator in Vietnam stands out with extensive experience and a proven track record. Since 2019, they have built a highly profitable loan business, solidifying their market leader position with a fast-growing product and a dedicated team of 120 employees. The company attracted 2 million clients and has a loan portfolio of 10 million dollars.

ClickCredit Poland: partners' recent launch in Poland has already shown remarkable progress. We have introduced our card product within a short period, signalling a commitment to innovation and expanding our offerings. The swift development of our operations in Poland reflects the excellent prospects that lie ahead. This market is poised for substantial growth, presenting an exciting opportunity for investors to join us on this promising journey.

OnCredit Sri Lanka: the company has 220,000 clients and 18,000 loans are issued monthly. The ability to maintain an efficient business with over 70 employees during challenging times highlights the strength and determination of our team. This loan originator has a loan portfolio of 2 million dollars.

Additionally, we wanted to mention MyCredit Ukraine, which holds a leading position in the Ukrainian market. While currently unavailable for investment due to the war, we eagerly await the end of the conflict and stabilisation of the economic landscape. Once Ukraine wins, we will add Ukrainian loan originators to our list, expanding investment opportunities for our valued investors.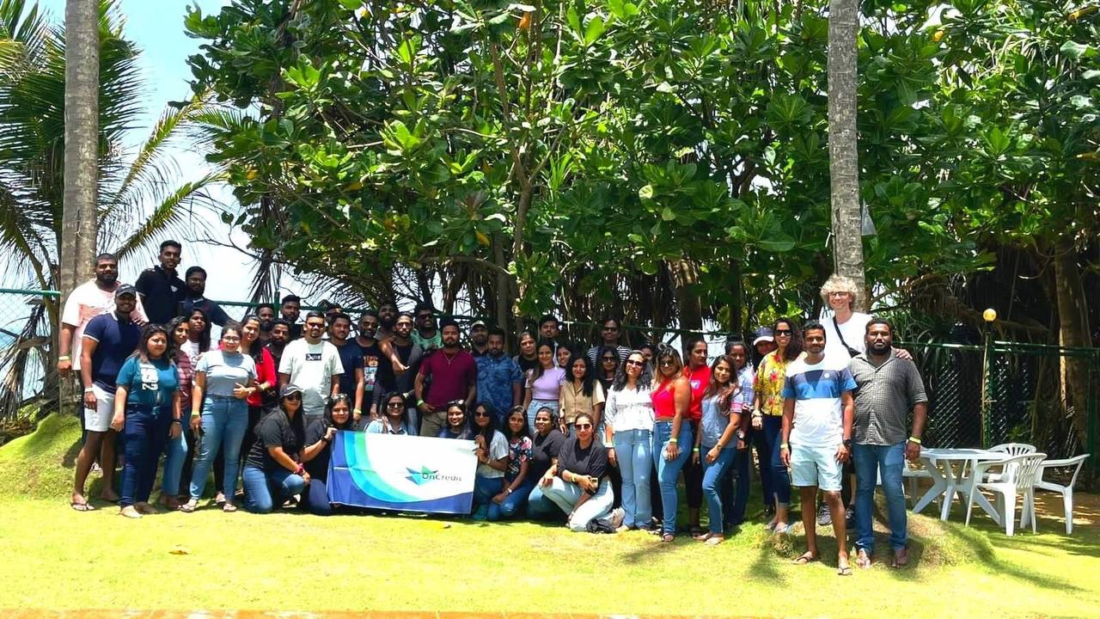 These countries represent diverse and promising markets, each with its potential for growth and attractive investment prospects. We are committed to providing our investors access to dynamic markets and expanding our portfolio to offer a broader range of investment opportunities.
Are you considering new markets in future?
Regarding product expansion, we are exploring opportunities to launch new brands and introduce innovative products. This includes offerings such as long-term loans, collateralized loans, and BNPL solutions.
Geographically, we are focusing on expanding into Southeast Asia, Africa, and LATAM countries. These regions present promising growth opportunities and align with our vision of making financial services accessible to individuals worldwide.
Our roadmap includes plans to enter 2-3 new countries in the coming years. We are committed to carefully selecting strategic locations and ensuring that our expansion efforts are aligned with our mission of providing secure and profitable investment opportunities to our valued investors. Stay tuned for updates as we continue to expand our presence and bring our innovative lending solutions to new markets.
What do you think are Lonvest's competitive advantages?
1. Proven Expertise: With over 13 years of experience in the fintech industry, our group of companies has a solid track record of success. We have honed our skills in building effective lending businesses, ensuring that your investments are in capable hands.
2. Cutting-edge Technology: Our loan originators use a special borrower scoring system that leverages advanced artificial intelligence technologies. This allows us to assess risks accurately and make informed decisions on loan issuance. By utilising innovative technology, we increase the chances of investing in borrowers who will repay their loans, maximising the returns on your investments.
3. Profitable Loan Originators: We collaborate with loan originator businesses with a demonstrated profitability history. This ensures that your investments are directed towards ventures with a proven track record of generating returns.
4. Easy and Convenient: Our platform is designed to provide a seamless investment experience. With just a click, you can generate an annual passive income ranging from 12 to 15%. We prioritise simplicity and convenience, allowing you to focus on growing your wealth effortlessly.
5. Buyback Guarantee: We offer a buyback guarantee, providing peace of mind and a convenient exit strategy. If you decide to withdraw your investment, we guarantee to repurchase your deposit, safeguarding your capital and providing flexibility.
At Lonvest, we combine expertise, technology, profitability, convenience, and security to offer a superior investment platform.
Do you have any upcoming news or plans that can interest your clients?
We have some exciting plans in the works that will capture your interest:
Bonus system for new users: we understand the importance of rewarding our investors and providing an exceptional experience. That's why we are thrilled to announce that we are actively developing a bonus system exclusively for new users. As an expression of our gratitude, new investors will enjoy an additional cashback bonus on their investments. This bonus will add an extra layer of profitability and excitement to your investment journey with us.

Expanded language support: we believe in fostering strong connections with our clients from worldwide. To enhance our communication and accessibility, we are delighted to inform you that we will soon introduce additional languages to our platform. Spanish, German, and French will be added to our repertoire, enabling us to cater to a more diverse audience. We want to get closer to our clients and provide a seamless experience that speaks their language.

Referral system: we are diligently working on implementing a referral system exclusively for our valued customers. This system will allow you to refer friends and family to Lonvest, unlocking unique rewards and benefits for both you and the referred individuals.

Robust loyalty program: we are developing a comprehensive loyalty program to recognize and reward our most engaged customers. This program will offer exclusive perks, special offers, and additional incentives as a token of our appreciation for your continued support.
New loan originators: These new loan originators will bring our investors exciting opportunities and diverse investment options. By partnering with trusted and reputable originators, we aim to strengthen our platform's offerings further, ensuring a wide range of investment choices to suit various preferences and risk appetites.
What one can expect from the P2P industry in future, in your opinion?
We envision a bright future for our industry, driven by the immense potential we see in our products.
Our mission is to empower every client to maximise the benefits of modern technology and build their financial history. We believe financial opportunities should be accessible to all, regardless of background or economic standing.
Our motto, "Making Money Affordable", encapsulates our vision to democratise access to financial services. We are committed to expanding our global reach, aiming to penetrate as many markets as possible. We have identified great potential in markets with large populations, high technology adoption rates, and internet penetration.
By leveraging modern technology, we can bridge the gap between individuals and financial opportunities, providing inclusive and affordable solutions. Our goal is to positively impact people's lives by offering secure and profitable investment options that empower them to achieve their financial goals.
As we forge ahead, we are dedicated to continuous innovation, expanding our product offerings, and improving our services. We will remain at the forefront of the industry, leading the way in making financial services more accessible, transparent, and beneficial for everyone.
We thank Lonvest team for sharing so much of their background policies and visions and wish them luck on their journey to shape the industry's future and work towards a world where financial prosperity is within reach for all.