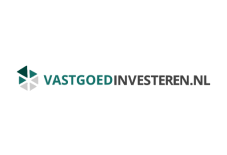 Industry:

Real estate

Type:

P2P lending

Min. investment:

€1,000

Country:

Netherlands
VastgoedInvesteren makes the real estate market accessible to anyone who wants to invest directly in future-proof real estate or to anyone who wants to help make the transition to sustainable real estate possible.
Key information
Platform Fee

You pay a one-off transaction fee with VastgoedInvesteren, nothing more, nothing less. The amount of the compensation depends on the duration of the project and any specific agreements for the project in which you are investing. For projects with a duration of 5 years or longer, you usually pay 3% of the amount invested. You pay a lower percentage for projects with a shorter duration.

Interest rate

4-8%

Secondary market

No

Registration number

58407529

Languages

Dutch

Address

Keizersgracht 127, 1015 CJ, Amsterdam

Who can invest?

Only resident natural persons and legal entities from the Netherlands, Belgium and Germany can register on the platform. Natural persons must also be 18 years or older (of age) to be able to invest. When you register for an offer, you can indicate in the first step of the registration process whether you want to invest from a private or on behalf of a legal entity (for example a BV or a VOF).