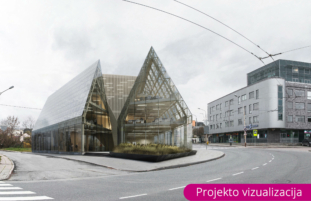 Zveryno verslo centras
Profitus
CrowdSpace is not liable for the content presented in this offering. Check with the information on the official Profitus website and make informed decisions based on your own research.
We present the phased financing project – "Zveryno verslo centras. The raised funds will be used to refinance the existing loan. The refinancing of the project was foreseen in the company's cash flow planning, so this decision will give the developer time to obtain the building permit documentation. The amount to be raised in this phase is EUR 296 500.
About the project owner:
The project owner has experience in real estate development. The company belongs to the "Citus" group of companies, which has developed more than 20 real estate projects in Vilnius and Kaunas ("Neries ardai", "Karaliauciaus slenis", "Pajustis", "Link Ten", "Kauno senamiescio apartamentai", "Aero namai", "Jonuciu namai", "Klevu namai" ir kt.).

Project objective:
The project owner is developing an A++ class business centre. The building is to be constructed with glass shopfronts on the facade. The future business centre will have an area of approximately 3 349.99 square metres, including 843.99 square metres of underground car parking. The projected sales revenue of the business centre is EUR 11 342 188 and of the car park EUR 1 060 000. This loan will be reimbursed from the proceeds of the sale of the other properties.
Project progress:
The publicity phase is now fully completed, the approval of the Zverynas community has been obtained, and the approval of the special architectural requirements has been obtained. The building permit is expected to be obtained in April 2024.
The maximum financed amount is EUR 5 000 000. The project is financed according to the current valuation of the mortgaged property until it reaches the set maximum LTV of 70%. Once the maximum LTV is reached, a new valuation of the property will have to be carried out, and the further stages of financing the project will be announced and collected only if the set maximum LTV is not exceeded. The loan-to-value ratio (LTV) without VAT at this stage is 27%.
Risk category (probability of default) of this project: 5.
Interest by investment amount:
– From EUR 100 to EUR 749 – 10.5%
– From EUR 750 to EUR 1 499 – 11%
– From EUR 1 500 to EUR 2 999 – 11,25%
– From EUR 3 000 to EUR 9 999 – 11,5%
– From EUR 10 000 to EUR 24 999 – 12%
– From EUR 25 000 – 12.5%
Important: Individual investments are not aggregated and cannot be pooled.
We plan to raise the amount within 7 days, with the option of extending it to 21 days if we do not raise funds.