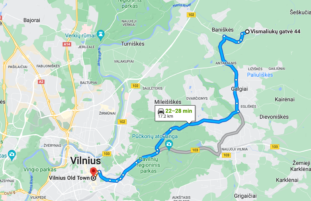 CrowdSpace is not liable for the content presented in this offering. Check with the information on the official Profitus website and make informed decisions based on your own research.
We present the new financing project – "Vismaliuku 44". The pooled funds will be used to refinance an existing loan. This decision will give the project owner time to sort out the design work for the apartment building and to finalise the adjustment of the detailed plan. The amount to be raised is EUR 65 000.
About the project owner:
The project owner has experience in real estate development. He has developed more than 15 000 square metres of projects. He has previously financed and successfully implemented three projects on the Profitus platform: "Komfortiski soduose", "Siaures sodai", "Rapsu namas".
About the project:
The owner of the project plans to develop a multi-family residential building on a 0.3630 hectare plot of land in Vilnius with 36 apartments and a parking lot. The total area of the residential building is 1 830 square metres. The project is expected to generate sales revenues of EUR 3 230 700. At the end of the loan period, the owner of the project will consider refinancing the existing obligation or selling the mortgaged property.
Risk category (probability of default) of this project: 9.
Interest by investment amount:
– From 100 EUR to 499 EUR – 11%
– From 500 EUR to 2 499 EUR – 11.5%
– From 2 500 EUR to 7 499 EUR – 12%
– From 7 500 EUR to 14 999 EUR – 12.5%
– From 15 000 EUR – 13%
Important: Individual investments are not aggregated and cannot be pooled.
We plan to raise the amount within 7 days, with the option of extending it to 21 days if we do not raise funds.