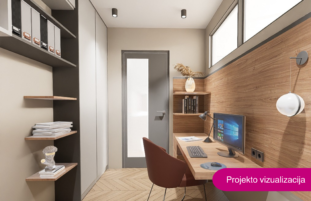 Piekrasta Rezidence
Profitus
CrowdSpace is not liable for the content presented in this offering. Check with the information on the official Profitus website and make informed decisions based on your own research.
We present the phased financing project – "Piekrasta Rezidence". The project owner will use the pooled funds for property development. The amount to be raised in this phase is EUR 500 000.
About the project owner:
SIA SKY KRASTI group of companies has experience in mixed-use real estate development in Latvia, which has been operating since 1997 and has developed about 25 000 square metres of projects. In Riga, the developer has developed 3 residential blocks (Riga warmhouse, Slock 84, Sniega street).
About the project:
The project owner is developing a 3-apartment block in Riga with 191 apartments and studio units. The flats in the apartment blocks will have one, two and three rooms with an area of 31-88 square metres. The studio apartments will have an area of 28 square metres. The developer is currently taking pre-reservations, having made preliminary agreements with 21 buyers, 15 of whom have already paid reservation fees of EUR 3 000 – 5 000. The developer plans to refinance the existing bank commitment within 6-9 months. The expected sales proceeds are EUR 22 000 000 including VAT.
The maximum financed amount is EUR 2 000 000. The project is financed according to the current valuation of the mortgaged property until it reaches the set maximum LTV of 50%. Once the maximum LTV is reached, a new valuation of the property will have to be carried out, and the further stages of financing the project will be announced and collected only if the set maximum LTV is not exceeded. The loan-to-value ratio (LTV) with VAT at this stage is 13%.
Interest by investment amount:
– From EUR 100 to EUR 499 – 12%
– From EUR 500 to EUR 3 499 – 12.5%
– From EUR 3 500 to EUR 4 999 – 13%
– From EUR 5 000 to EUR 9 999 – 13,25%
– From EUR 10 000 to EUR 29 999 – 13,5%
– From EUR 30 000 to EUR 49 999 – 14%
– From EUR 50 000 – 15%
Important: investments made separately are not aggregated.
We plan to raise the amount within 7 days, with the option of extending it to 21 days if we do not raise funds.