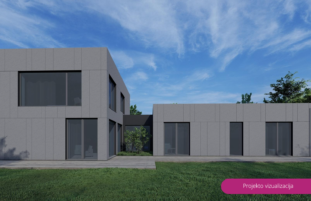 Papli tee 8, Tabasalu II
Profitus
CrowdSpace is not liable for the content presented in this offering. Check with the information on the official Profitus website and make informed decisions based on your own research.
We present a new staged financing project – "Papli tee 8, Tabasalu II", the funds of which will be allocated to the development of real estate. The amount to be raised at this stage is EUR 23 800.
About the project owner:
The project owner has experience in property development. The developer is also involved in short-term property rental: Junipervillas.
The aim of the project:
The owner of the project develops a 211.8 square meters modern residential house project on the purchased plot of land. The house will be two-story, with a flat roof and with energy lable B marking. The first floor has five bedrooms, a common spacious kitchen living area, utility room, storage room, two seperate bathrooms and sauna with front room. There will be a terrace, which is the length of the house. The master bedroom on the second floor will have a separate bathroom and walk-in closet.
Project progress:
The project owner has used the funds raised in the first phase to remove existing trees in the area. The sewage and water pipes were also laid, and underfloor heating pipes were installed. Currently, the registered completion rate is 10%. The developer will use the funds mobilised for this phase to continue the construction work.
Maximum planned amount of funding for the project: EUR 400 000 (EUR 92 000 already raised). The project is funded based on the current mortgage valuation until it reaches the maximum LTV set. When maximum LTV is reached, a new valuation of the property will be required and further project funding stages will be announced and collected only if the maximum LTV set is not exceeded. The loan-to-value (LTV) ratio including VAT at this stage is 60%.
Interest by investment amount:
– From 100 EUR to 1 999 EUR – 10%
– From 2 000 EUR – 10,5%
Important: investments made separately are not aggregated.
We plan to collect the accumulated amount within 7 days with the possibility to extend it to 21 days without raising funds.