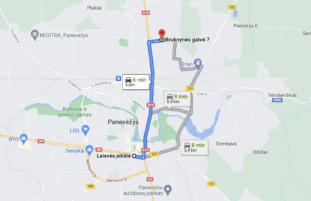 Namas Bruknynes g.
Profitus
CrowdSpace is not liable for the content presented in this offering. Check with the information on the official Profitus website and make informed decisions based on your own research.
Introducing a new financing project "Namas Bruknynes g.", which will be used to refinance an existing loan. The amount to be raised is EUR 180 000.
About the project owner:
UAB "Saurenta" was established in Panevzeys in 2008. From the first year, it earned the respect and trust of its customers. The company has regular customers with whom it has been cooperating since the beginning of the company's creation. UAB "Saurenta" offers its services to companies, institutions, organizations and private individuals. The main activity of the company is scaffolding rental. UAB "Saurenta" also rents temporary fences and other equipment.
Project objective:
The project owner will refinance the existing loan. This loan will be repaid by the company's operating income. In 2020 the company's sales revenue was EUR 193 000, in 2021 – EUR 222 000, 2022 – EUR 168 000, and in 2023 for the first half of the year – EUR 72 000. The project owner has the status of a trusted developer on the platform Profitus. Interest is paid to investors on time, partial loan repayments are made, thereby reducing the refinanced amount of the loan every year.
As a guarantee, the real estate is pledged to the investors with a first mortgage:
The following is pledged to protect the interests of the investors: an apartment with an area of 61.61 square metres at Jurates st. 33-16, Palanga, and a residential house with an area of 218.71 square metres, together with a 6-acre plot of land belonging to it, at Bruknynes st. 7, Panevezys. According to an independent real estate appraiser, the value of the mortgaged real estate is EUR 394 000.
Interest by investment amount:
– From EUR 100 to EUR 999 – 9.5%
– From EUR 1 000 to EUR 4 999 – 10%
– From EUR 5 000 to EUR 14 999 – 10.5%
– From EUR 15 000 – 11%
Important: Individual investments are not aggregated and cannot be combined.
We plan to raise the amount within 7 days, with the possibility of extending it to 21 days if the funds are not raised.
Financial information:
| | |
| --- | --- |
| Estimated interest costs per year, EUR | 16 650 |
| The company's income in 2021, EUR (PVM added) | 222 342 |
| The company's revenue in 2022, EUR (PVM added) | 168 681 |
| Revenue for the first half of 2023, EUR (PVM added) | 71 975 |
| Source of loan repayment | Operating income of the company |