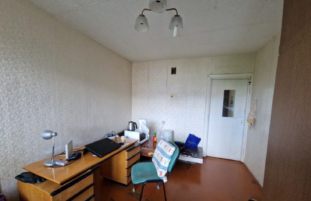 Butas Simulionio gatvėje
Profitus
CrowdSpace is not liable for the content presented in this offering. Check with the information on the official Profitus website and make informed decisions based on your own research.
Introducing the new financing project "Butas Simulionio gatvėje" The project owner will use the funds raised to separate the 77.14 square meters apartment into 2 and to furnish the apartments, the rest of the sum will be used as working capital for other projects. The amount to be raised is EUR 76 300. This loan will be covered by the sale of real estate.
Objective of the project:
The project funds will be used for the separation and renovation of an 77.14 square metres apartment in a 1974 building, with the remaining funds used for the company's working capital. The owner of the project purchased the mortgaged apartment with his own funds for EUR 109 000 and intends to furnish it as two separate apartments. Once these works are completed, the apartments will be sold. The remaining funds will be used to renovate the other flats, as the project owner and his partners are currently renovating 8 flats, the proceeds of the sale of which will be used to repay this loan.
To secure the interests of investors, real estate is pledged with a primary mortgage:
The mortgage securing the investors' interests is an apartment Igno Simulionio st. 10-117, Vilnius, built in 1974, with an area of 77.14 square metres. According to an independent real estate appraiser, the value of the mortgaged real estate is EUR 109 000.
Interest based on the size of the investment:
– From EUR 100 to EUR 499 – 9.5%
– From EUR 500 to EUR 1 999 – 10%
– From EUR 2 000 to EUR 4 999 – 10.5%
– From EUR 5 000 to EUR 9 999 – 11%
– From 10 000 – 11.5%
Important: Individual investments are not aggregated and cannot be combined.
We plan to raise the amount within 7 days, with the possibility of extending it to 21 days in the event of non-collection.