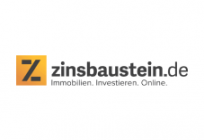 Industry:

Real estate

Type:

Equity, Debt

Min. investment:

€500

Country:

Germany
zinsbaustein.de is a platform for selected real estate investments. On zinsbaustein.de website users can participate quickly, easily and completely online in offers from the following product categories:

Crowdinvesting in real estate financing from € 500 to 25,000;
Club deals in real estate projects from € 50,000;
Existing real estate investments via alternative mutual investment funds (AIFs) with variable minimum investment amounts.

zinsbaustein.de only provides products that have been selected according to strict and well-considered quality criteria. zinsbaustein.de only acts as an intermediary for its products and does not offer you any investment advice.
Key information
Platform Fee

No

Payment Fee

No

Interest rate

5,25 % p.a.

Secondary market

No

Registration number

D-F-107-1DN4-74

Languages

German

Address

Oranienplatz 2,10999 Berlin

Who can invest?

zinsbaustein.de portfolio is tailored to private and semi-professional investors. zinsbaustein.de offers crowdinvestments from € 500 as well as Club Deals from € 50.000.