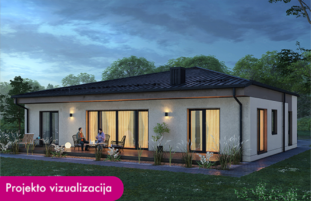 CrowdSpace is not liable for the content presented in this offering. Check with the information on the official Profitus website and make informed decisions based on your own research.
We are presenting a new financing project "Ekonamas", the funds of which will be used for the completion of a house under construction. The amount to be raised is EUR 70 000. This loan will be repaid by the proceeds from the sale of this property under development.
The aim of the project:
The project owner is building a 150.07 square meters house. The house will be sold 100% finished with full finishing. Due to the high ceiling on the north side of the house, it is planned to install a mezzanine, thus increasing the area to 170 square meters. The following works are required for the completion of the house: wall finishing works, installation of ceilings and floors, installation of plumbing, installation of heating and ventilation systems, installation of doors, completion of facade works and arrangement of well-being. The project owner estimates that it will take an investment of around EUR 70 000 to complete the house to 100% completion. The planned income from the sale of the house is about EUR 200 000.
Future house construction technology:
The project will build ecological A ++ class houses, the construction technology of which is the construction of houses based on straw boards. The panels are manufactured in the factory according to the design of the future house, later installed on the cast foundations. One of the advantages of such a construction is the homogeneous distribution of straw as an insulating material in the wooden frame. This ensures uniform thermal properties and prevents the formation of thermal bridges, which are often formed due to incompletely precise human work when insulating structures, even with an insulating material popular in construction – mineral wool. This technology allows builders to control construction costs, as manufacturers prepare a highly accurate construction estimate for the house. The cost of building this type of house is often lower than building brick houses.
To secure the interests of investors, real estate is pledged with a primary mortgage:
To protect the interests of investors, a 19.59 acres plot of land with a 150.07 square meters house is pledged at Sekmes st. 9, Trakai district. The registered completion of the house is 72%. According to an independent real estate appraiser, the value of real estate pledged to investors is EUR 118 000. In addition to this loan, a personal guarantee is provided by the company's shareholder.
Interest by investment amount:
– From 100 EUR to 499 EUR – 9%
– From 500 EUR to 4 999 EUR – 9,5%
– From 5 000 EUR – 10%
Important: investments made separately are not aggregated.
We plan to raise the amount within 7 days, with the option of extending it to 21 days if we do not raise funds.